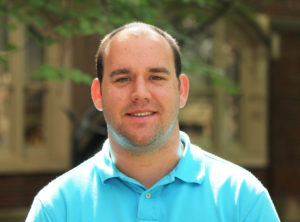 Thomas Werfel is Assistant Professor of Biomedical Engineering, Joint Assistant Professor of BioMolecular Sciences, and Affiliate Assistant Professor of Chemical Engineering at The University of Mississippi (UM). Dr. Werfel received his PhD in Biomedical Engineering from Vanderbilt University in 2017, after which he worked as a postdoctoral researcher in Cell and Developmental Biology at Vanderbilt University School of Medicine. In 2018, he joined the Biomedical Engineering Program at the University of Mississippi and is an inaugural faculty member of the Department of Biomedical Engineering at UM – founded in 2019. As a graduate student, Dr. Werfel was awarded the NSF Graduate Research Fellowship Program (GRFP) Fellowship. His tenure as a postdoctoral researcher was supported by the NIH F32 Postdoctoral Fellowship. His research has been published in cross-disciplinary journals from Biomaterials and Advanced Materials to PNAS and Cancer Research, and he was recently recognized as a Biomaterials Science Emerging Investigator in 2021. His research group at UM works at the interface of bioengineering, materials science, and molecular biology to engineer the medicines of the future. He can be found on Twitter @OleMiss_iNBS.
Read Thomas' Emerging Investigator article "Immunostimulatory biomaterials to boost tumor immunogenicity" and check out all of the 2021 Biomaterials Science Emerging Investigator articles here.
How do you feel about Biomaterials Science as a place to publish research on this topic?
Biomaterials Science is without doubt a premier worldwide journal to publish broad areas of interdisciplinary research that leverages biomaterials.
What aspect of your work are you most excited about at the moment and what do you find most challenging about your research?
We are most excited about our work to leverage newly-discovered and/or recently characterized immunological processes to boost tumor immunogenicity using targeted, biomaterials-based strategies.
In your opinion, what are the most important questions to be asked/answered in this field of research?
Follow the immunology!! As we continue elucidating the function of the immune system, how can materials be used to modulate these processes toward therapeutic ends?
Can you share one piece of career-related advice or wisdom with other early career scientists?
Establish balance! You always come back refreshed and reinvigorated when you step away for a while – whether a day, a weekend, or a longer vacation.