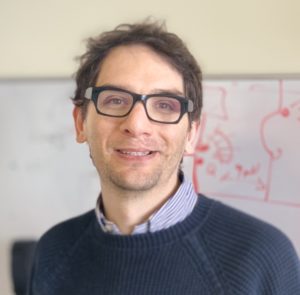 Dr Chiappini investigates the biointerface blending nanotechnology, bioengineering and cell biology to develop functional materials that direct cell behaviour. His research in this field focuses on regenerative medicine and molecular diagnostics. He has conceived porous silicon nanoneedles which he is developing into a platform capable intracellular interfacing for sensing and delivery. Dr. Chiappini is Senior Lecturer in Nanomaterials and Biointerfaces in the Deparment of Craniofacial Development and Stem Cell Biology. Following a Ph.D. in Biomedical Engineering from the University of Texas at Austin in 2011, he joined Imperial College London as a Newton International Fellow and Marie Curie Fellow. He can be found on Twitter @altoCC.
Read Ciro's Emerging Investigator article "Biomaterials-based approaches to model embryogenesis" and check out all of the 2021 Biomaterials Science Emerging Investigator articles here.
How do you feel about Biomaterials Science as a place to publish research on this topic?
I think it's a great multidisciplinary journal. It has a broad scope, a strong profile thanks to a reputable publisher and association with a leading learned society and has a very accessible and friendly publication process. For my research, these qualities make Biomaterials Science most suitable to publishing high quality research that does not fit within the narrower scope of a nanotechnology or material science journal.
What aspect of your work are you most excited about at the moment and what do you find most challenging about your research?
I am very excited by the ability to control cell behaviour at single-cell level, through a combination of high-precision delivery and sensing. I can see how this can be used to build accurate models of tissues and organs. Our research is always quite challenging because we try something not attempted before, and that's the interesting part about it. The less interesting challenges are the increase in administration and bureaucratic burdens that take the focus away from research.
In your opinion, what are the most important questions to be asked/answered in this field of research?
In exploring nanoneedles for delivery and sensing there are so many open, exciting questions that we are spoilt for choice. There are fundamental questions on how exactly these interfaces negotiate the cell membrane to grant intracellular access, and these are among the most interesting as they are quite unique to nanoneedles. There are more biological questions on the details of the biophysical interaction, and its implication for cell fate. And there are technological questions on how to design, manufacture and bring to market this exciting new technology.
Can you share one piece of career-related advice or wisdom with other early career scientists?
Do something that you like for as long as you like, and when you stop liking it, move on to something else. There are so many opportunities to be grabbed that it is not worth spending time being miserable.