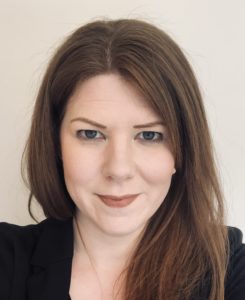 Dr Clare Hoskins is a Reader in the School of Pure and Applied Chemistry. She has published >50 peer reviewed articles and filed 1 patent. Her research has been supported with over £3M by national (e.g. EPSRC, BBSRC/FAPESP, Wellcome Trust) and international (e.g. Newton-Bhabha & British Council, Iraqi Ministry of Higher Education and Scientific Research) research funding. Clare is the Elected Secretary to the Royal Society of Chemistry, Chemical Nanosciences and Nanotechnology Network, she is a committee member of the UK and Ireland Controlled Release Society and she sits on the British Council Grant Review Panel for Newton Grants. In 2019 Clare was awarded the Academy of Pharmaceutical Sciences 'Emerging Scientist' sponsored by Pfizer and also the North Staffordshire Medical Institute Researcher Award. Clare sits on the editorial board of numerous journals in her field, she leads a vibrant interdisciplinary research group within the theme of Bionanotechnology and Analytical Chemistry in the Technology Innovation Centre. The focus of her research is the development of a range of multifunctional nanoparticles and their translation into medical therapies and agricultural products. She can be found on Twitter @HoskinsLab.
Read Clare's Emerging Investigator article "The regulation of nanomaterials and nanomedicines for clinical application: current and future perspectives" and check out all of the 2021 Biomaterials Science Emerging Investigator articles here.
How do you feel about Biomaterials Science as a place to publish research on this topic?
I am very pleased with the journal, time for response and standards and will be pleased to publish again here in the future. I think that it's nice for the RSC to have an interdisciplinary journal like this.
What aspect of your work are you most excited about at the moment and what do you find most challenging about your research?
Our review was really timely – without me knowing it. I have received quite a lot of correspondence due to the pandemic and the nano constituents of some of the vaccines. So I was pleased to see an immediate interest and impact from this. In terms of what is most exciting to me at the minute, it's really pushing all the fundamental bench work we have as new therapeutics, further down the translational pipeline. Adhering to the regulations mentioned in my review article and finding new methods for safety evaluation of our technologies which are bespoke to nanomedicine and more suitable to application.
In your opinion, what are the most important questions to be asked/answered in this field of research?
How can we effectively develop an approval pathway for nanomedicines which allow for expedited clinical use, allowing more rapid patient benefit, without compromising patient safety.
Can you share one piece of career-related advice or wisdom with other early career scientists?
Don't be put off by negative reviews for papers or funding. Remember these are only one person's opinions. If you think your concepts or proposals are worthwhile, find a way to make them happen, use your networks to help.