It is with great pleasure that we announce Nasim Annabi (UCLA) as the recipient of the 2021 Biomaterials Science lectureship.
This award, now in its eighth year, honours an early-career researcher who has made significant contribution to the biomaterials field. The recipient is selected by the Biomaterials Science Editorial Board from a list of candidates nominated by the community.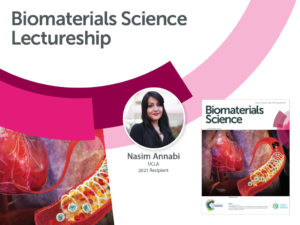 Nasim Annabi is an Assistant Professor in the Department of Chemical and Biomolecular Engineering at University of California, Los Angeles (UCLA). She received a PhD in Chemical Engineering from the University of Sydney (Australia). From 2011-2014, she was a postdoctoral fellow at Harvard Medical School and the Wyss Institute for Biologically Inspired Engineering. Before joining UCLA in 2018, she was an Assistant Professor in the Department of Chemical Engineering at Northeastern University. Dr. Annabi's group has expertise in the design and engineering of advanced biomaterials for applications in regenerative medicine. In addition, her research team has devised innovative strategies for the development of advanced bioadhesives and surgical sealants with high clinical translation for surgical applications. Dr. Annabi has published over 135 articles in peer-reviewed journals. She has been cited over 13,000 times and her H index is already at 58. Her innovations have resulted in 15 patents and generated significant commercial interest. Dr Annabi has been recognized with several national and international awards including the 2021 Young Investigator Award from the Society for Biomaterials (SFB), the 2020 Nanoscale Science and Engineering Forum (NSEF) Young Investigator Award of American Institute of Chemical Engineers (AIChE), the Australian Prestigious Endeavour Award, and the National Health and Medical Research Council Early Career Award. Her team has received major grants from the National Institutes of Health (NIH), the Department of Defense (DOD) and the American Heart Association (AHA). She can be found on Twitter @nasimannabi.
Read Nasim's latest article in Biomaterials Science "Ciprofloxacin-loaded bioadhesive hydrogels for ocular applications" and all of her other publications in Biomaterials Science for FREE until 1 August. These and articles from our previous lectureship winners can be found in our lectureship winners collection.
How has your research evolved from your first article to the most recent article?
I did not know where I wanted to go with my career when I published my first paper, but it was clear from the beginning that I wanted to do something that would have a real-world impact. As a chemical engineering student, I was very passionate to apply my engineering knowledge to the medical field and this gave me the stamina towards my path in this field of study and I absolutely love it.
What excites you most about your area of research and what has been the most exciting moment of your career so far?
The most exciting aspect of biomaterials research for me is the ability to merge novel chemistries with nanomaterials and micro-technologies to design multi-functional biomaterials for tissue regeneration and disease treatment. The most exciting moment of my career was when through working with ophthalmologists, our team developed an innovative drug delivery system for treatment of ocular diseases which formed the basis of a start-up spinoff from our lab. We hope that this product will improve patient's quality of life.
In your opinion, what are the most important questions to be asked/answered in your field of research?
One of the most important questions in my field of research is how to bridge the gap between fundamental research conducted in research laboratories in universities and real-world applications in industry. This gap can be closed through strong networking among scientists in multiple disciplines, industrial collaborators, and medical doctors to bring innovative solutions from research in our lab adopted to practical solutions in clinics and industry settings.
How do you feel about Biomaterials Science as a place to publish research on this topic?
Biomaterials Science is among the most valuable journals in the field of biomaterials by attracting novel and creative research in the field. The journal has successfully integrated the various expertise in biological and materials science towards clinical use to create new interdisciplinary domains in our field. Biomaterials Science also invests in researchers at their early career stages by providing training as well as involving them as guest editors and reviewers.
In which upcoming conference or events (online or in person) may our readers meet you?
If everything goes well with the pandemic, I might have the opportunity to attend the annual ESB conference (Sep 2021) in Portugal in person; otherwise, we can definitely meet and have great discussions online!
Can you share one piece of career-related advice or wisdom with early career scientists?
It is extremely important to collaborate and work with people you like and trust within the professional boundaries. This can lead to build strong networks with scientists in your field to create new research frontiers.
How do you spend your spare time?
I manage my time to exercise by doing swimming and go jogging to clear my mind and keep a healthy lifestyle. I also enjoy socializing and meeting friends.
We would like to thank everybody who nominated a candidate for the 2021 Biomaterials Science Lectureship. The Editorial Board had a very difficult task in choosing a winner from the many excellent and worthy candidates.
Please join us in congratulating Nasim on winning this award!