The Biomaterials Science Lectureship is an annual award that honours an early-career researcher for their significant contribution to the biomaterials field. The recipient is selected by the Biomaterials Science Editorial Board from a list of candidates nominated by the community.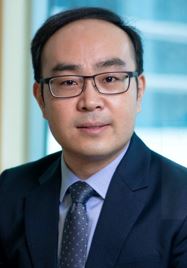 This year we are delighted to award the Lectureship to Dr Kanyi Pu (Nanyang Technological University). He will present the Biomaterials Science lecture and receive his award at the 11th World Biomaterials Congress in Glasgow, UK in May 2020.
Dr. Pu is an Associate Professor in the School of Chemical and Biomedical Engineering (SCBE) at Nanyang Technological University. He is a highly cited researcher (2019 web of science), and the associate editor for ACS Applied Polymer Materials and Biomaterials Research, and Young Star Editor of Nano Research. He did his MS (2007) at Fudan University in China, his PhD (2011) at National University of Singapore in Singapore, and his postdoctoral training at Stanford University School of Medicine.
Dr. Pu has made significant contributions to the development of molecular imaging probes and technologies, particularly for photoacoustic imaging, chemiluminescence imaging and afterglow imaging. He is well known for his work on semiconducting polymer nanomaterials (SPNs) for molecular imaging, phototherapy and photoregulation. He is the inventor of the polymeric nanoreporters for molecular afterglow imaging and the molecular optical renal reporters for early diagnosis of acute kidney injury (AKI).
With a h-index of 65 (Jan 2020), he has won a number of awards for his creative work, including the distinguished lectureship award from the Chemistry Society of Japan, Wiley award for contribution in bioscience, young investigator travel award, and young innovator award in nanobiotechnology by Nano Research. He is the member of board of directors of Chinese American Society of Nanomedicine and Nanobiotechnology (CASNN). He also sits on the editorial advisory board of Advanced Functional Materials, Bioconjugate Chemistry, ACS Applied Bio Materials, Advanced Biosystems, Journal of Nanobiotechnology and ChemNanoMat.
To learn more about Kanyi's research, have a look at his recent publications in Biomaterials Science and our sister journals:
Recent progress in the development of near-infrared organic photothermal and photodynamic nanotherapeutics
Houjuan Zhu, Penghui Cheng, Peng Chen and Kanyi Pu
Biomater. Sci., 2018, 6, 746-765
Near-infrared fluorescence probes to detect reactive oxygen species for keloid diagnosis
Penghui Cheng, Jianjian Zhang, Jiaguo Huang, Qingqing Miao, Chenjie Xu and Kanyi Pu
Chem. Sci., 2018, 9, 6340-6347
Near-infrared absorbing amphiphilic semiconducting polymers for photoacoustic imaging
Dong Cui, Chen Xie, Yan Lyu, Xu Zhen and Kanyi Pu
J. Mater. Chem. B, 2017, 5, 4406-4409
Multilayered semiconducting polymer nanoparticles with enhanced NIR fluorescence for molecular imaging in cells, zebrafish and mice
Houjuan Zhu, Yuan Fang, Xu Zhen, Na Wei, Yu Gao, Kathy Qian Luo, Chenjie Xu, Hongwei Duan, Dan Ding, Peng Chen and Kanyi Pu
Chem. Sci., 2016, 7, 5118-5125
Please join us in congratulating Kanyi on his award!