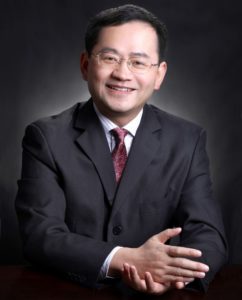 Xinyuan Zhu is a full Professor of Polymer Science and Engineering at the School of Chemistry and Chemical Engineering, Shanghai Jiao Tong University, and Distinguished Professor of SJTU. Zhu focuses his research on the controlled preparation and biomedical applications of functional materials, including hyperbranched polymer synthesis, supramolecular polymer chemistry, drug and gene delivery, interactions between cells and polymers. He is a recipient of China National Funds for Distinguished Young Scientists (2010), and Cheung Kong Distinguished Professor (Ministry of Education of China, 2019). A number of his scientific research achievements have been applied in industries.
Read some of Xinyuan's research below!
Methotrexate–Mn2+ based nanoscale coordination polymers as a theranostic nanoplatform for MRI guided chemotherapy
Yan Wu, Li Xu, Jiwen Qian, Leilei Shi, Yue Su, Youfu Wang, Dawei Li and Xinyuan Zhu
Biomater. Sci., 2020, 8, 712-719
Tirapazamine-embedded polyplatinum(iv) complex: a prodrug combo for hypoxia-activated synergistic chemotherapy
Dongbo Guo, Shuting Xu, Wumaier Yasen, Chuan Zhang, Jian Shen, Yu Huang, Dong Chen and Xinyuan Zhu
Biomater. Sci., 2020, 8, 694-701
Site-dependent fluorescence enhanced polymers with a self-restricted GFP chromophore for living cell imaging
Wenbin Fan, Hongping Deng, Lijuan Zhu, Chunlai Tu, Yue Su, Leilei Shi, Jiapei Yang, Linzhu Zhou, Li Xu and Xinyuan Zhu
Biomater. Sci., 2019, 7, 2421-2429
All these articles are currently FREE to read until 29th February 2020!