We are very pleased to welcome Professor Lino Ferreira and Professor Khuloud Al-Jamal to the Biomaterials Science Editorial Board. Read more to learn all about them!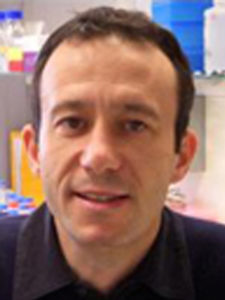 Lino Ferreira is the director of the Biomaterials and Stem Cell-Based Therapeutics research group at Center of Neurosciences and Cell Biology (CNC), at the University of Coimbra, Portugal, and the CNC coordinator of the MIT-Portugal Program. His current interests include the development of nanomateriais to track and manipulate exogenous and endogenous stem cells, and the development of 3D biomaterials to create synthetic stem cell niches in order to study and maximize the therapeutic potential of stem cells. For his work, he has recently received an European Research Council prize.
Read some of Lino's research below!
A photodynamic antibacterial spray-coating based on the host–guest immobilization of the photosensitizer methylene blue
Tian-tian Yao, Jing Wang, Yun-fan Xue, Wei-jiang Yu, Qiang Gao, Lino Ferreira, Ke-Feng Ren and Jian Ji
J. Mater. Chem. B, 2019,7, 5089-5095
Intracellular delivery of more than one protein with spatio-temporal control
Miguel M. Lino, Susana Simões, Sónia Pinho and Lino Ferreira
Nanoscale, 2017,9, 18668-18680
Inflammatory modulation of stem cells by Magnetic Resonance Imaging (MRI)-detectable nanoparticles
Sezin Aday, Jose Paiva, Susana Sousa, Renata S. M. Gomes, Susana Pedreiro, Po-Wah So, Carolyn Ann Carr, Lowri Cochlin, Ana Catarina Gomes, Artur Paivad and Lino Ferreira
RSC Adv., 2014,4, 31706-31709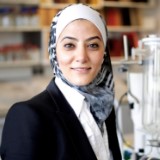 Professor Khuloud T. Al-Jamal is a Chair of Drug Delivery & Nanomedicine, King's College London. She is also a registered pharmacist at the General Pharmaceutical Council. She started her academic career as a lecturer at King's College London in 2011. She completed her pre-registration pharmacy training at The University College London Hospital and was awarded the Overseas Research Award Scheme (ORSA) Scholarship from The University of London (2000-2004) to complete her PhD in Drug Delivery from UCL-School of Pharmacy. She was awarded the prestigious CW Maplethorpe Research and Teaching Postdoctoral Fellowship from The University of London (2005-2007) to explore the use of cationic dendrimers as anti-angiogenic agents for growth inhibition of solid and metastatic tumours.
She has developed an extensive experience in designing and developing novel nanoscale delivery systems including dendrimers, liposomes, quantum Dots (QDs), polymers, viral vectors, chemically functionalised carbon nanotubes and graphene oxide. Her current work involves pre-clinical translation of novel nanomaterials designed specifically for drug, protein, nucleic acids and radionuclide delivery for therapeutic or diagnostic applications.
Learn more about Khuloud by reading some of her research articles below!
Design of antibody-functionalized carbon nanotubes filled with radioactivable metals towards a targeted anticancer therapy
Cinzia Spinato, Aritz Perez Ruiz de Garibay, Magdalena Kierkowicz, Elzbieta Pach, Markus Martincic, Rebecca Klippstein, Maxime Bourgognon, Julie Tzu-Wen Wang, Cécilia Ménard-Moyon, Khuloud T. Al-Jamal, Belén Ballesteros, Gerard Tobias and Alberto Bianco
Nanoscale, 2016,8, 12626-12638
Synthesis of double-clickable functionalised graphene oxide for biological applications
Kuo-Ching Mei, Noelia Rubio, Pedro M. Costa, Houmam Kafa, Vincenzo Abbate, Frederic Festy, Sukhvinder S. Bansal, Robert C. Hider and Khuloud T. Al-Jamal
Chem. Commun., 2015,51, 14981-14984
Cellular uptake mechanisms of functionalised multi-walled carbon nanotubes by 3D electron tomography imaging
Khuloud T. Al-Jamal, Hannah Nerl, Karin H. Müller, Hanene Ali-Boucetta, Shouping Li, Peter D. Haynes, Joerg R. Jinschek, Maurizio Prato, Alberto Bianco, Kostas Kostarelos and Alexandra E. Porter
Nanoscale, 2011,3, 2627-2635
As Biomaterials Science Associate Editors, Lino and Khuloud will be handling submissions to the journal. Why not submit your next paper to their Editorial Office?