In 2001 Jöns Hilborn was appointed to the head of the Polymer Chemistry program at the Department of Chemistry at Uppsala University in Sweden. He has extensive management experience from life science industry, start-up companies and coordination of European projects.
His research interests are in the design, synthesis and preparation of polymers and specifically materials for tissue scaffolds and as delivery vehicles. His group especially focuses on hydrogel matrices that act on endogenous cells to regenerate tissue. His laboratory combines chemistry, biology, engineering with medicine to bring their research findings from the lab bench to the clinic and commercial applications. He served as president of "Tissue Engineering and Regenerative Medicine International Society" (TERMIS), of which he was a founding member. 
Read some of Jöns recent research in Biomaterials Science: 
Control of growth factor binding and release in bisphosphonate functionalized hydrogels guides rapid differentiation of precursor cells in vitro
Sujit Kootala, Yu Zhang, Sara Ghalib, Vladimir Tolmachev, Jöns Hilborn and Dmitri A. Ossipov
Biomater. Sci., 2016,4, 250-254
In situ forming interpenetrating hydrogels of hyaluronic acid hybridized with iron oxide nanoparticles
Malihe Kheirabadi, Liyang Shi, Reza Bagheri, Kourosh Kabiri, Jöns Hilborn and Dmitri A. Ossipov
Biomater. Sci., 2015,3, 1466-1474
Chondroitin sulfate derived theranostic nanoparticles for targeted drug delivery
Oommen P. Varghese, Jianping Liu, Karthi Sundaram, Jöns Hilborn and Oommen P. Oommen
Biomater. Sci., 2016,4, 1310-1313
Fu-Jian Xu is a Professor and the executive director of Beijing Laboratory of Biomedical Materials at Beijing University of Chemical Technology. His research interests include functional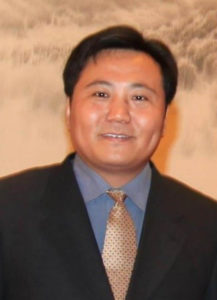 materials for drug/gene delivery, natural polysaccharides for wound healing, and surface modification for biomedical applications including antibacterial, antifouling, and biocompatible surfaces.
He was the recipient of the Top Young Talents of National Special Support Program (2012), National Science Fund for Distinguished Young Scholars of China (NSFC, 2013), Cheung Kong Distinguished Professor (Ministry of Education of China, 2014), and Distinguished Young Scientists Program of Beijing Universities (2018).
Learn more about Fujian by reading some of his research articles below:
Phthalocyanine functionalized poly(glycidyl methacrylate) nano-assemblies for photodynamic inactivation of bacteria
Wei Tong, Yanhua Xiong, Shun Duan, Xiaokang Ding and Fu-Jian Xu
Biomater. Sci., 2019, Advance Article
Multifunctional hybrids with versatile types of nanoparticles via self-assembly for complementary tumor therapy
Shun Duan, Jia Li, Nana Zhao and Fu-Jian Xu
Nanoscale, 2018, 10, 7649-7657
High-performance cationic polyrotaxanes terminated with polypeptides as promising nucleic acid delivery systems
Hai-Qing Song, Yu Qi, Rui-Quan Li, Gang Cheng, Nana Zhao and Fu-Jian Xu
Polym. Chem., 2018, 9, 2281-2289
PGMA-based gene carriers with lipid molecules
Chen Xu, Bingran Yu, Hao Hu, Muhammad Naeem Nizam, Wei Yuan, Jie Ma and Fu-Jian Xu
Biomater. Sci., 2016, 4, 1233-1243
Biomolecule-functionalized polymer brushes
Hui Jiang and Fu-Jian Xu
Chem. Soc. Rev., 2013, 42, 3394-3426
All these articles are currently FREE to read until the 31st May!