Profile: Matt Webber, 2017 Biomaterials Science Emerging Investigator
This week's issue of Biomaterials Science is our 2019 Emerging Investigators issue, which contains reviews and research articles from biomaterials scientists in the early stages of their independent careers. The 2019 Biomaterials Science Emerging Investigators were individually nominated by members of the journal Editorial and Advisory Boards, and previous Emerging Investigators, in recognition of their potential to influence future directions in the biomaterials field. The issue is accompanied by an Editorial from Editor-in-Chief Jennifer Elisseeff, which discusses some of the great work on display, and contains biographies and photos of the contributors.
In order to celebrate this issue, we are delighted to feature a profile of one of the researchers from our 2017 Emerging Investigators issue, Matt Webber. Matt talks below about how his research has progressed since being featured as a Biomaterials Science Emerging Investigator.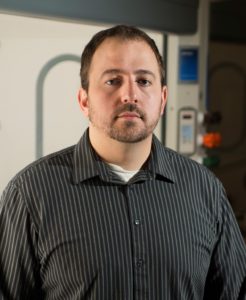 "It was a great honor to have been included as a 2017 Emerging Investigator. When I was selected for this honor, my team had not even moved into our lab space and I had just started my independent position. I was surprised people even knew who I was, but of course I accepted! We had access to a peptide synthesizer, and went about devising a project that would be possible to complete on a short timeline with limited resources. We begun by investigating the self-assembly of a series of tripeptides, which we designed to be amphiphilic with a variable residue positioned in the center of an aromatic group and a charged group. We thought some sequences might self-assemble, but in a stroke of pure serendipity we were fortunate to discover the emergence of 5 unique nanostructures from these five different sequences. This was very exciting, leading my group to continue to explore the self-assembly of minimal peptide sequences. This initial work published in Biomaterials Science resulted in a follow-up paper published in 2018 in Soft Matter and several other forthcoming works and invited presentations. Strangely enough, we may never have done this work or pursued this line of research if it were not for the opportunity to participate in the 2017 Emerging Investigator issue. I am grateful to Biomaterials Science for this honor, and for nucleating a great start to my research group."
Biography
Matthew J. Webber is an Assistant Professor in the Department of Chemical & Biomolecular Engineering at the University of Notre Dame, with a concurrent appointment in the Department of Chemistry and Biochemistry. His research group is interested in applying supramolecular principles, leveraging defined and rationally designed non-covalent interactions, to improve therapeutic materials. He is specifically curious about the use of supramolecular design to overcome barriers in drug delivery and improve biomedical materials. Prof. Webber received a BS in Chemical Engineering from the University of Notre Dame, and MS and PhD degrees in Biomedical Engineering from Northwestern University. His dissertation, performed in the laboratory of Prof. Samuel Stupp, focused on the use supramolecular peptide assemblies for cardiovascular disease therapeutics. Subsequently, he was an NIH NRSA postdoctoral fellow in the laboratories of Prof. Robert Langer and Prof. Daniel Anderson at MIT, working on the development of new molecular engineering approaches toward the treatment of diabetes. His research passion is to contribute to bringing the field of Supramolecular Therapeutics into prominence. He has authored 56 peer-reviewed papers and is inventor on 7 pending or awarded patents. In 2017, he was named by Biomaterials Science as an Emerging Investigator and by the American Institute of Chemical Engineers (AIChE) as one of the "35 under 35" young leaders shaping the field.
Matt's papers will be free to access on our publishing platform for 6 weeks.
We hope you enjoy reading all the contributions to our 2019 Emerging Investigators collection, and we thank all the nominators and authors for their input.