Severe skin injuries affect millions of patients each year worldwide. These lead to serious issues, such as the formation of nonfunctional large scar tissue and the loss of skin appendages (such as hair follicles and sebaceous glands; etc). This can cause the patients insufferable bodily discomfort and a poor quality of life. Current available treatments include autologous skin grafting, allotransplantation and artificial skin substitutes. However, it remains very challenging to functionally regenerate skin tissue after severe loss of the epidermis and dermis. Other limitations include the lack of donor skin, costly medical expenses, the chance of immune-rejection and unsatisfactory skin regeneration. Hence, the development of an efficient alternative skin substitute is highly desired.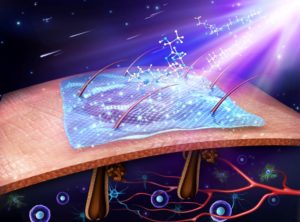 Sericin is a natural biomaterial derived from silk cocoons has been used previously for a variety of types of injury repair. Previously, Wang and coworkers utilized sericin made hydrogels or scaffolds for transected sciatic nerve regeneration, repair of ischemic stroke, and cartilage regeneration. In this present work, a photo-crosslinkable sericin hydrogel (SMH) for the repair of scarless skin and sebaceous glands regeneration is reported. The sericin hydrogel promotes such regeneration by the following mechanisms: (a) effective inhibition of inflammation; (b) promotion of angiogenesis by stimulating the growth factors like VEGF and EGF; (c) reduction of scar formation through regulating the expressions of TGF-β1 and TGF-β3; and (d) effective conscription of stem cells to injury sites, where they differentiate and regenerate into skin appendages. Overall, these results showcase the potential of this innovative bimodal tool for the development of new artificial skin substitutes for the clinical treatment of severe skin injuries.
Read the full article for free until 19th November
Sericin hydrogels promote skin wound healing with effective regeneration of hair follicles and sebaceous glands after complete loss of epidermis and dermis  Biomater. Sci., 2018, Advance Article DOI: 10.1039/C8BM00934A.
About the webwriter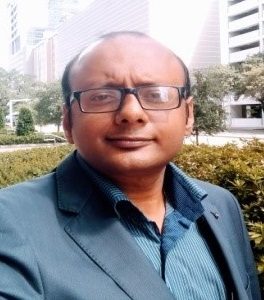 Dr. Sudip Mukherjee is a Web Writer for Biomaterials Science. He is currently a Postdoctoral Research Associate at the Rice University. His research is involved in the development of advanced nanomaterials for drug/gene delivery in cancer theranostics, immunomodulatory applications & angiogenesis. He published a total of ~35 research articles/patents. He serves as International Advisory Board Member for 'Materials Research Express', IOP Sciences. He is an associate member (AMRSC) of RSC, UK. He serves as reviewer for several international journals like ChemComm, J Mater Chem A, J Mater Chem B, Journal of Biomedical Nanotechnology, RSC Advances, IOP Nanotechnology, Biofabrication etc.
Contact Email: sudip.mukherjee@rice.edu
Twitter: https://twitter.com/sudip_88