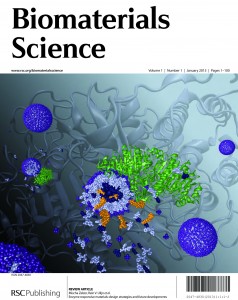 Less than a year after the launch announcement, the first issue of Biomaterials Science is now available online. Showcasing the latest biomaterials research, Issue 1 contains articles on the following:
Enzyme responsive materials, Rein V. Ulijn et al.: This review summarises recent advances in enzyme responsive material development, highlighting design strategies and future challenges in the field.
Bone repair using bioceramics, María Vallet-Regí et al.: Understanding natural ossification mechanisms is essential for designing scaffolds for bone tissue engineering. Mesoporous bioactive ceramics formed scaffolds by rapid prototyping and are excellent candidates for bone regeneration.
Zn and Sr substitution in tricalcium phosphate on osteoclast differentiation and resorption, Susmita Bose et al.: Tunable osteoclast cell differentiation and resorption of β-TCP bone substitute was achieved by Zn and/or Sr doping—a much needed property for successful bone remodelling.
A bio-inspired neural environment to control neurons, Morgan R. Alexander et al.: Chemical and micro-topographical gradients are used as a high-throughput means to assess neural cell interaction. Surface conditioning by radial glial cells enhances neuron attachment and alignment.
All articles published in Biomaterials Science are free to access online to all individuals who sign up for an RSC Publishing personal account, and all the existing RSC customers with an IP address registered.
Like what you read? Submit your work to Biomaterials Science now. Your articles will benefit from wide exposure with free access upon registration to all content published during 2013 and 2014 giving maximum visibility to your work.
Follow the latest journal news on Twitter @BioMaterSci or go to our Facebook page.
To keep up-to-date with all the latest research, sign-up to our RSS feed or Table of contents alert.