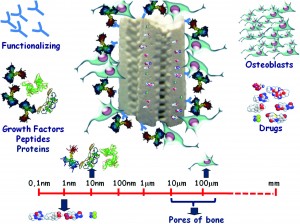 A tissue engineering approach based on the use of bioceramics for bone repair
Mesoporous bioactive ceramics that form scaffolds by prototyping are excellent candidates for bone regeneration. This review by Salinas, Esbrit and Vallet-Regí describes the use of bioceramics such as those based on oxides, phosphates, carbonates, nitrides, carbides, carbons and glasses for bone repair.

(Biomater. Sci., 2012, DOI: 10.1039/c2bm00071g, Advance article)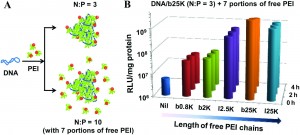 Progress and perspectives in developing polymeric vectors for in vitro gene delivery
The problems associated with gene-delivery vectors for human gene therapy as discussed in this Review by Yue and Wu. The Review focuses on how polymeric vectors navigate each intracellular obstacle or "slit". Intracellular trafficking mechanisms of DNA-polymer complexes are particularly focussed upon.

(Biomater. Sci., 2012, DOI: 10.1039/ c2bm00030j, Advance article)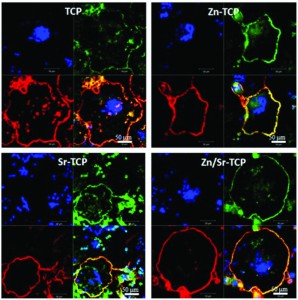 Effects of zinc and strontium substitution in tricalcium phosphate on osteoclast differentiation and resorption
Biomaterials for bone replacement must be able to regulate osteoblast and osteoclast functions to maintain the dynamics of bone remodelling. In this paper, Bose and co-workers report osteoclast-like cell differentiation and resorption activity in the presence of β-tricalcium phosphate and Zn-and Sr-doped tricalcium phosphate materials in an in vitro study. The presence of Zn was found to reduce activity in all cultures, but the osteoclast-like cellular resorption process was not affected.
(Biomater. Sci., 2012, DOI: 10.1039/ c2bm00012a, Advance article)
Don't forget to keep up-to-date with all the latest research you can sign-up for the Biomaterials Science RSS feed or Table of contents alert.
To keep up with the journal news you can Like us on Facebook or Follow us on Twitter.