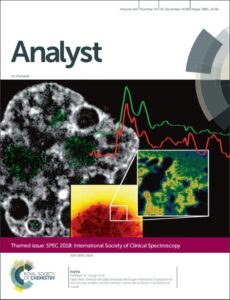 Vibrational spectroscopies, based on infrared absorption and/or Raman scattering provide a detailed fingerprint of a material, based on the chemical content. Diagnostic and prognostic tools based on these technologies have the potential to revolutionise our clinical systems leading to improved patient outcome, more efficient public services and significant economic savings. (Extract from critical review on "Clinical applications of infrared and Raman spectroscopy: state of play and future challenges" by Matthew Baker et al, Analyst, 10.1039/C7AN01871A).
We have gathered our most recent Analyst publications on both fundamental technological and analytical developments and exciting applications on this topic, and are delighted to share this collection with you.
Read the full collection now: https://rsc.li/clinical-spectroscopy
We hope you enjoy reading this collection, which we have made free to access until the 15th June 2019 with an RSC Publishing Account.
Take a look at a small selection of the excellent articles featured in the collection below:
Critical Review
Clinical applications of infrared and Raman spectroscopy: state of play and future challenges
M. J. Baker, H. J. Byrne, J. Chalmers, P. Gardner, R. Goodacre, A. Henderson, S. G. Kazarian, F. L. Martin, J. Moger, N. Stone and J. Sulé-Susoh
Critical Review
Raman spectroscopy for cancer detection and cancer surgery guidance: translation to the clinics
I.P. Gerwin J. Puppels, et al.
Paper
High definition infrared chemical imaging of colorectal tissue using a Spero QCL microscope
B. Bird and J. Rowlette
Paper
Near-field infrared nanospectroscopy and super-resolution fluorescence microscopy enable complementary nanoscale analyses of lymphocyte nuclei
G. C. Ajaezi, K. M. Gough et al.
Paper
Three-dimensional depth profiling of prostate tissue by micro ATR-FTIR spectroscopic imaging with variable angles of incidence
C. L.Song and S. G. Kazarian
About the journal
Led by our Editor-in-Chief, Duncan Graham (University of Strathclyde, UK), Analyst is an international journal for the publication of fundamental discoveries, inventions and applications in the analytical and bioanalytical sciences.
We hope you enjoy reading these exciting recent papers on clinical spectroscopy and we welcome future submissions in this field in Analyst.
We would love to keep sharing exciting Analyst content and news with you, so please do sign up for our free table of contents alerts and e-newsletters so we can keep in touch.