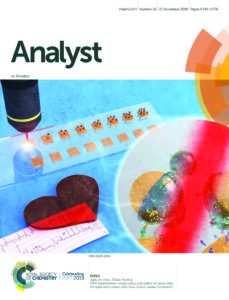 We invite you to contribute an article or review to an ongoing themed collection in Analyst, focusing on Smartphone-based sensors. We welcome papers on this new and exciting area of sensor research in various areas of application including; health monitoring, medical diagnostics, environmental exposure analysis and forensics. The Guest Editors are Professor Sharon Weiss, Vanderbilt University, USA and Professor Jinhong Guo, University of Electronic Science and Technology of China.
Accepted articles will be published as soon as they are accepted and then gathered in an online collection that will be promoted as a complete collection in 2022.
We will be accepting submissions throughout 2022!
Please note that all submitted manuscripts will be subject to peer review in accordance with the journal's normal standards.
If you are interested in submitting to this collection, or have any questions please contact the Analyst Editorial Office (analyst-rsc@rsc.org)