Analyst is delighted to announce the winner of our 2022 Emerging Investigator Lectureship, Maria Cuartero. This Lectureship was launched to be a platform for an early career analytical scientist to raise the profile of the analytical sciences to the wider scientific community and general public.
Professor Maria Cuar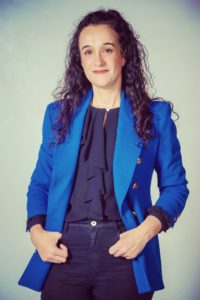 tero received her PhD degree in 2014 in the University of Murcia (Spain). Later, she carried out a postdoctoral stay of 3 years in the University of Geneva (Switzerland). In 2018, she moved to KTH Royal Institute of Technology in Stockholm (Sweden) as a Marie Curie Fellow, becoming Assistant Professor and Docent in 2020. Recently, Professor Cuartero has been appointed to Full Professor in Universidad Católica San Antonio de Murcia (Spain), where she is leading a research unit focused on chemical sensors, the UCAM-SENS. In addition, she is Academic in the Young Academy of Spain and the next Chair Elect of the Division 1 of the International Society of Electrochemistry. She is co-author of ~100 peer-reviewed papers, mainly in journals related to Analytical Chemistry and Electrochemistry.
Professor Cuartero's research is primarily focused on the development of new fundamental concepts in electroanalysis, being funded by several prestigious grants such as the ERC-Starting Grant (European Research Council). Other research interests comprise environmental water electroanalysis, enzymatic (bio)sensors, wearable sensors in the form of patches and microneedles for healthcare, nanotips for single cell measurements and spectroelectrochemistry with analytical purposes.
Professor Cuartero's work has been recognized by several honours, including the Ramon y Cajal Program (2022), Early Career Analytical Electrochemistry Prize of the International Society of Electrochemistry (2018), and the Best PhD Thesis in Analytical Chemistry by the Spanish Society of Analytical Chemistry (2015).
---
Read Professor Cuartero's recent articles in Analyst:
Why ammonium detection is particularly challenging but insightful with ionophore-based potentiometric sensors – an overview of the progress in the last 20 years Analyst, 2020,145, 3188-3210
A sustainable amperometric biosensor for the analysis of ascorbic, benzoic, gallic and kojic acids through catechol detection. Innovation and signal processing Analyst, 2020,145, 3645-3655