We are delighted to announce that Professor Wei Min has been selected by the Analyst Editorial Board as the winner of the 2018 Analyst Emerging Investigator Lectureship! This Lectureship was launched to be a platform for an early career analytical scientist to raise the profile of the analytical sciences to the wider scientific community and general public.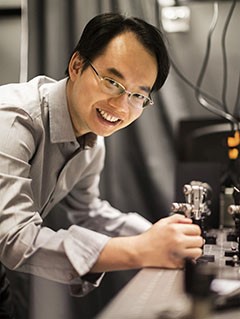 Dr Wei Min graduated from Peking University with a Bachelor's degree in Chemistry in 2003. He received his Ph.D. from Harvard University in 2008, studying single-molecule biophysics with Professor Sunney Xie. After continuing his postdoctoral work in Professor Xie's group, Dr Min joined the faculty of the Department of Chemistry at Columbia University in 2010. He was promoted to Full Professor there in 2017. He is also affiliated with the Kavli Institute for Brain Science and NeuroTechnology Center at Columbia University.
Dr Min's current research interests focus on developing novel optical spectroscopy and microscopy technology to address biomedical problems. In particular, his group has made important contributions to the development of stimulated Raman scattering (SRS) microscopy and its broad application in biomedical imaging including bioorthogonal chemical imaging of small molecules and super-multiplex vibrational imaging.
Dr Min's work has been recognized by a number of honours, including: Coblentz Award of Molecular Spectroscopy (2017); the ACS Early Career Award in Experimental Physical Chemistry (2017); Buck-Whitney Award of American Chemical Society (2015); Camille Dreyfus Teacher-Scholar Award (2015); George Fraenkel Fund Award (2014); Alfred P. Sloan Research Fellowship (2013); NIH Director's New Innovator Award (2012); and Faculty Finalist of Blavatnik Awards for Young Scientists of the New York Academy of Sciences (2012).
The award will be presented to Dr Min at SciX 2018 in Atlanta, Georgia in October 2018, where Dr Min will be delivering his plenary lecture.
Once again, we would like to extend our warmest congratulations to Dr Min on this well-deserved award.
---
Read Dr Min's most recent Analyst papers:
A ratiometric Raman probe for live-cell imaging of hydrogen sulfide in mitochondria by stimulated Raman scattering
Analyst, 2018, 143, 4844-4848 (free to access until 19 Nov 2018 with an RSC Publishing Account!)
Applications of vibrational tags in biological imaging by Raman microscopy
Analyst, 2017, 142, 4018-4029