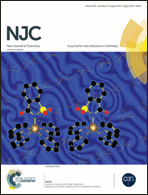 This month, the outside cover was created by Dr Anders Lennartson (Chalmers University of Technology, Sweden).
In their Paper article, Dr Lennartson and his colleague, Dr Håkansson, discuss the chirality of five-coordinate enantiomers displaying mono- and bi-dentate ligands by optical resolution of three complexes. They discovered that the crystallization of two of the complexes was influenced by undetectable amounts of an unidentified source of optical activity.
Absolute asymmetric synthesis of five-coordinate complexes
Anders Lennartson and Mikael Håkansson.
New J. Chem., 2015, 39, 5936-5943. DOI: 10.1039/C5NJ00254K.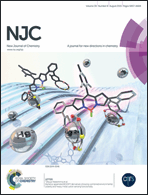 The inside cover, designed by Prof. Tatsuya Nabeshima (University of Tsukuba, Japan), illustrates a Letter article in which the authors focus on the photophysical and heavy metal cation sensing properties of a series of novel BODIPY derivatives. These, or similar compounds, might find application as tools for the detection of environmental polarity changes in biological samples, as well as for monitoring Hg2+ and Pb2+ contamination in such samples.
Biphenyl appended BODIPY derivatives showing combined environmental polarity and heavy metal cation sensing functionality
Gary James Richards, Yuki Gobo, Masaki Yamamura and Tatsuya Nabeshima.
New J. Chem., 2015, 39, 5886-5889. DOI: 10.1039/C5NJ00611B.
Click here to read the full August issue.