Arsenic is a notoriously poisonous element and arsenate (HAsO42-) contamination of drinking water is a problem that affects millions of people worldwide.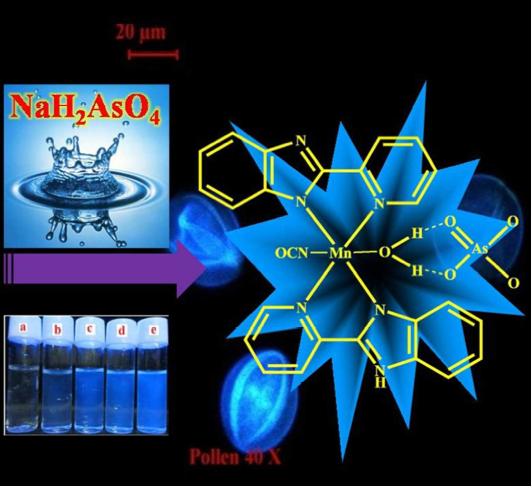 In this NJC Letter, Debasis Das (The University of Burdwan, India) and Jesús Sanmartín Matalobos (Universidade de Santiago de Compostela, Spain) present a Mn(II) complex that forms intermolecular hydrogen bonds with HAsO42-, leading to higher molecular rigidity and fluorescence enhancement. This new "turn-on" fluorescent probe allows both the quantification of the HAsO42- anion in aqueous media and its detection in contaminated living cells under microscope. The authors were able to measure HAsO42- concentrations in the sub-nanomolar range, far below the World Health Organization's standard for drinking water.


Interested in reading further? Why not download the full article now, FREE to access for a period of 4 weeks!
2-(2-Pyridyl) benzimidazole based ternary Mn(II) complex as arsenate selective turn-on fluorescence probe: ppb level determination and cell imaging studies
D. Das, S. Das, A. Banerjee, S. Lohar, B. Sarkar, S. K. Mukhopadhyay, J. Sanmartin and A. Sahana 
New J. Chem., 2014, DOI: 10.1039/C3NJ01514A.