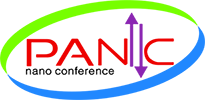 The Photonics and Bionanotechnology Association "PhoBiA" are inviting all young scientists and students to attend the 8th Edition of the PhoBiA Annual Nanophotonics International Conference "PANIC" which will take place from 24 – 26 April, 2017 in Wroclaw, Poland.
This meeting intends to gather students and young scientists working on the borders between chemistry, physics, and biology to enable them to share knowledge by presenting their work in a conference setting. A plenary lecture will take place each day, presented by a renowned scientist from the field of photonics, bio-, or nanotechnology.
Nanoscale Horizons is proud to sponsor student prizes for the best poster and the best oral presentation! The abstract submission deadline is only days away, so to be in with a chance of winning a signed certificate and one years free subscription to the journal Nanoscale, published by the Royal Society of Chemistry submit by 26 March!
PANIC 2017 is organised by students for students, so sign up before 2 April to take part.