Our referees have spoken yet again and selected the second batch of HOT Food & Function papers for the month of April. Please take a look below and remember that these are free to access for the next 4 weeks! 
Chalcones suppress fatty acid-induced lipid accumulation through a LKB1/AMPK signaling pathway in HepG2 cells
Tianshun Zhang, Norio Yamamoto and Hitoshi Ashida
Food Funct., 2014, Advance Article
DOI: 10.1039/C3FO60694E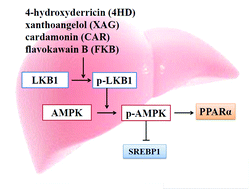 ---
Clustering effects on postprandial insulin secretion and sensitivity in response to meals with different fatty acid compositions
Beatriz Bermudez, Almudena Ortega-Gomez, Lourdes M. Varela, Jose Villar, Rocio Abia, Francisco J. G. Muriana and Sergio Lopez
Food Funct
., 2014, Advance Article
DOI
: 10.1039/C4FO00067F
---
A standardised static in-vitro digestion method suitable for food – an international consensus
André Brodkorb,
et al
.
Food Funct
., 2014, Accepted Manuscript
DOI
: 10.1039/C3FO60702J