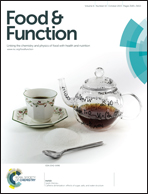 The front cover of issue 10 features artwork by Seishi Shimizu from the University of York. Seishi challenges the consensus of statistical thermodynamics by combining the rigorous Kirkwood–Buff theory of solution with the classical isodesmic model of caffeine association.
Interested to find out more? Read the full article below – its free to access for the next 6 weeks!
Seishi Shimizu
Food Funct., 2015, 6, 3228-3235
DOI: 10.1039/C5FO00610D
---
Keep up-to-date with the latest content in Food & Function by
registering
for our free table of contents alerts.