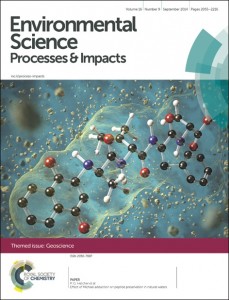 We are delighted to announce the publication of Issue 9, Volume 16 of Environmental Science Processes & Impacts, which is a themed issue dedicated to Geoscience, guest edited by Yu-ping Chin from The Ohio State University.
Geology, and especially the field of geochemistry, has become inextricably linked to the environmental sciences, and has evolved over the past few decades to view earth in a much more holistic fashion. The papers in this themed collection reflect the diversity of research problems that face earth scientists studying environmentally relevant processes today. They range from the nano- to macro-scale and tackle problems that face organic and inorganic geochemists alike.
This collection features  a HOT Critical Review on the structural characterization of dissolved organic matter, by researchers from the USA, which received particularly high scored during peer review.
Click here to view the full geoscience themed issue – we hope you enjoy the collection