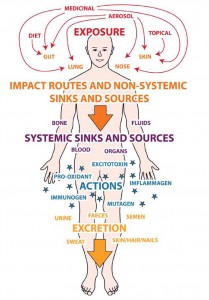 Aluminium is the most abundant metal in the Earth's crust. Its range of desirable chemical and physical properties (e.g. low density, thermal conductivity, corrosion resistance etc) has made it the most widely used metal of the 21st century, utilised in a huge variety of products and applications, from kitchen utensils to aircraft parts, from food packaging to window frames. However, while the extracting and casting of this abundant resource yields many benefits, the disruption of natural geochemical and biochemical systems may expose organisms including humans to potential harm. It is of paramount importance that we fully understand the ways in which humans are exposed to aluminium and its behaviour within the body. This will allow the nature and extent of potential toxic effects to be assessed and enable people to live safely with these possible dangers.
In this article, which featured on the cover of Environmental Science: Processes & Impacts Issue 10, Christopher Exley provides a detailed and comprehensive critical review, addressing these issues. A broad range of specific aspects within the field of aluminium exposure are covered. The myriad ways in which humans are exposed to aluminium (including inhalation, diet and cosmetics) are discussed as well as the key impact routes (e.g. skin. nose, lung and gut), distribution networks within the body (e.g. blood) and excretion routes. The mechanisms through which aluminium can exert biochemical effects in humans (e.g. pro-oxidant activity, immunopotency and mutagenicity) are also described. Additionally, the article provides a complete and clear description of the aluminium 'body burden' (the balance between exposure and excretion).
This article challenges the current perception that aluminium is completely 'safe' and demonstrates the need to change our thinking regarding human exposure to metals like aluminium. Furthermore, several key knowledge gaps in this field are identified. Specific areas for future research, required to improve our understanding of aluminium exposure and toxicology, are outlined. In particular, the need to identify specific 'targets' within biological systems that may be more vulnerable to aluminium 'attack' than others is emphasised. Also, a need to establish an acceptable level of 'safe' exposure in humans is highlighted.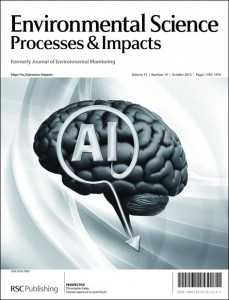 Exley suggests that gaining a full understanding of aluminium exposure and body burden in humans will require further data to be gathered from both laboratory and computer modelling approaches. This article will therefore be a valuable resource for researchers within these fields as well as for policy-makers at local and national levels.
Read the full article here:
Human exposure to aluminium, Christopher Exley, DOI : 10.1039/c3em00374d