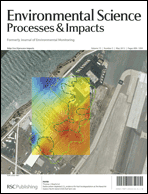 A HOT article from a team at the US Naval Research Laboratory is featured on this month's eye-catching outside front cover, which was recently featured on the Environmental Science: Processes & Impacts blog. In this work, CO2 radiocarbon analysis is demonstrated as a tool to review remediation efficiency by differentiating between CO2 produced by degrading fuel contaminant and that produced naturally by organic matter. Free to access for 6 weeks*!
Radiocarbon-depleted CO2 evidence for fuel biodegradation at the Naval Air Station North Island (USA) fuel farm site
Thomas J. Boyd, Michael J. Pound, Daniel Lohr and Richard B. Coffin
DOI: 10.1039/C3EM00008G
---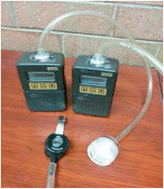 Issue 5 contains two Perspective articles. The first written by Darrah Sleeth at University of Utah, USA, assesses the current air sampling techniques available for sampling beryllium particulates and outlines the components of the ideal aerosol sampler.
The impact of particle size selective sampling methods on occupational assessment of airborne beryllium particulates
Darrah K. Sleeth
DOI: 10.1039/C3EM30877D
---
The second Perspective from Richard Brown et al. at the National Physical Laboratory, UK, follows on from their excellent HOT article featured on the front cover of Issue 3 in February. This Perspective article discusses the consequences of incomplete data coverage and evaluates strategies for making up for such data loss. The authors' aim is to provoke debate about the best ways to address this problem, so have a read and let us know what you think by commenting below.
Improved strategies for calculating annual averages of ambient air pollutants in cases of incomplete data coverage
Richard J. C. Brown, Peter M. Harris and Maurice G. Cox
DOI: 10.1039/C3EM00039G
---
Issue 5 contains more HOT research, such as this article on E-waste which was highlighted on the blog last week:
Heavy metals and organic compounds contamination in soil from an e-waste region in South China
Ming Liu, Bo Huang, Xinhui Bi, Zhaofang Ren, Guoying Sheng and Jiamo Fu
DOI: 10.1039/C3EM00043E
Discover the full contents of Issue 5 here!
Follow Environmental Science: Processes & Impacts on Twitter!
*Free access to individuals is provided through an RSC Publishing personal account. Registration is quick, free and simple