The third of our Introducing series of blog posts features Editorial Board member David Cwiertny – we're very pleased to welcome him to the board and post his profile and research vision: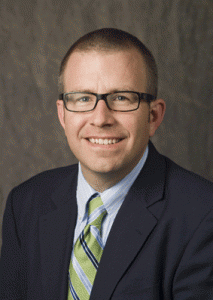 David Cwiertny holds a BS in Environmental Engineering Science with a minor in Chemistry from the University of California, Berkeley awarded in 2000. He then received his PhD in Environmental Engineering from Johns Hopkins University (Baltimore, Maryland, USA) in 2005. After completing his doctoral work, he served as a post-doctoral research associate at the University of Iowa in joint appointment between the Departments of Civil and Environmental Engineering and Chemistry. In the Fall of 2011, he returned to the University of Iowa as an Assistant Professor in the Department of Civil and Environmental Engineering after serving four years in the same capacity at the University of California, Riverside. His research program broadly focuses on pollutant fate in natural and engineered systems, with a particular emphasis on the development of materials-based treatment technologies that promote water sustainability. This includes projects on the transformation of emerging contaminant classes (e.g., synthetic hormones and pharmaceuticals) in natural aquatic systems, and the development of nanomaterial-enabled technologies for advanced chemical treatment of water and wastewater. At the University of Iowa, he is a core faculty member in the campus-wide Water Sustainability Initiative, developing interdisciplinary research, outreach and education programs intended to increase water awareness at the University and across the state of Iowa.
Here David presents his research vision. Click "Read more" below to find out more!
RESEARCH VISION: A motivating theme for research in the Cwiertny lab is the belief that the unique reactivity displayed by materials within the nanodomain can be exploited to overcome challenges that have long stymied water quality engineers.  Indeed, we believe that engineered nanomaterials hold great promise, and are perhaps ideally suited, for moving society toward more sustainable water supplies.  Engineered nanomaterials are versatile at a range of scales, and are likely to be particularly relevant in decentralized or point-of-use treatment systems. Inherently, such applications require smaller, more efficient technologies.  Building blocks for multi-functional, hybrid technologies can potentially decrease the size of treatment.  In addition to being relevant in rural areas and in smaller communities that can often struggle to maintain compliance with existing and future regulations, they also may help to revolutionize water treatment in the developing world.  Of course, there remain challenges to the widespread acceptance of nanomaterials in treatment, including finding responsible platforms in application given concerns over their inadvertent release into the environment.  However, we believe the future of research in environmental nanotechnology will bridge the fundamental and the practical, allowing nanomaterials to fulfill their promise in the realm of water treatment.
The rapid growth in nanotechnology has raised numerous questions as to the potential impact of nanoparticles on the natural environment, especially the quality of our air and water resources.  On one hand, the unique reactive properties of engineered nanomaterials make them attractive options in various applications to improve environmental quality including water and wastewater treatment.  However, others have scrutinized the growing number of industrial applications and commercial products reliant on engineered nanomaterials, which will undoubtedly result in their inadvertent release into the environment where they may adversely impact the quality of air, water and soil. As one of our major research thrusts, the Cwiertny laboratory at the University of Iowa explores both sides of nanotechnology's double-edged sword.    A primary focus of our group is the development of nanotechnology enabled strategies for water and wastewater treatment.  For example, we have shown that carbon nanotubes are an ideal substrate for use in ozone-based advanced oxidation processes, generating powerfully oxidizing hydroxyl radicals that can be used to degrade a wide variety of chemical and biological contaminants.  We have also explored the use of novel hybrid nanostructures as sorbents for heavy metals in contaminated water supplies, and more recently we have been utilizing the innovative synthesis process of electrospinning to fabricate nanofiber mats of different reactive substrates (e.g., photocatalysts and sorbents) for use as point-of-use filtration devices.  Because such applications must be done responsibly, a complementary focus of our group is the fate of nanomaterials in natural and engineered aquatic systems.  These projects explore the colloidal stability and dissolution of nanomaterials, as well as potentially hazardous byproducts generated from their processing in the environment via chemical reactions.