The beautiful image on the outside front cover highlights important research from Beat Müller et al. This research conducted in Switzerland combines convenient technologies to develop a method for speedy, portable sediment porewater sampling and on-site analysis. This article was featured on the blog last week and you can browse the blog or read the post here. As a cover article, it's also now free to access for 6 weeks*!
Sediment porewater extraction and analysis combining filter tube samplers and capillary electrophoresis
Natascha T. Torres, Peter C. Hauser, Gerhard Furrer, Helmut Brandl and Beat Müller
DOI: 10.1039/C3EM00068K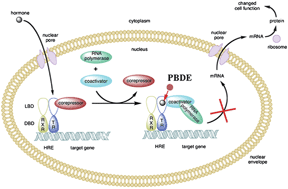 An interesting Frontier review from Xiao-Min Ren and Environmental Science: Processes & Impacts Editorial Board member Liang-Hong Guo on the likely impact of PBDE toxicity on the body, specifically looking at what is known about the molecular mechanism of PBDE in disruption of hormone receptor pathways and how PBDE toxicity is being investigated.
Molecular toxicology of polybrominated diphenyl ethers: nuclear hormone receptor mediated pathways
Xiao-Min Ren and Liang-Hong Guo
DOI: 10.1039/C3EM00023K
Issue 4 also contains HOT articles, two of which recently featured on the blog and both are still free to access* for the next couple of weeks:
Characterization of a portable method for the collection of exhaled breath condensate and subsequent analysis of metal content
Julie R. Fox, Ernst W. Spannhake, Kristin K. Macri, Christine M. Torrey, Jana N. Mihalic, Sorina E. Eftim, Peter S. J. Lees and Alison S. Geyh
DOI: 10.1039/C3EM30906A
A case-study on the accuracy of mass balances for xenobiotics in full-scale wastewater treatment plants
Marius Majewsky, Julien Farlin, Michael Bayerle and Tom Gallé
DOI: 10.1039/C3EM30884G
Curious to know more about Environmental Science: Processes & Impacts?
View the full issue here today
*Free access to individuals is provided through an RSC Publishing personal account. Registration is quick, free and simple