This issue's outside front cover features a HOT article by Richard Brown at the National Physical Laboratory focused on a simple modelling method to overcome data loss, particularly when the data varies seasonally, to provide more representative annual averages. All of our cover articles are made free to access for 6 weeks*, so read it by clicking the link:
Data loss from time series of pollutants in ambient air exhibiting seasonality: consequences and strategies for data prediction
Richard J. C. Brown
DOI: 10.1039/C3EM30918E
This was also featured in this week's blog posts, find the post here!
---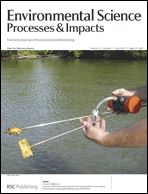 Work from Danny Reible et al. at the
University of Texas at Austin
, USA is highlighted on the inside front cover.
This HOT cover article presents an analysis of a long term study monitoring polycyclic aromatic hydrocarbons migration through capping materials at the Anacostia Rive, Washington DC, USA. They use an innovative passive sampling method with PDMS and assess bioavailability of PAHs using pore water profiles.
Long-term PAH monitoring results from the Anacostia River active capping demonstration using polydimethylsiloxane (PDMS) fibers
David J. Lampert, Xiaoxia Lu and Danny D. Reible
DOI: 10.1039/C3EM30826J
---
Issue 3 also contains high quality environmental research such as that from researchers at
The University of Minnesota
studying the eight volatile organic compounds that swine production workers are most exposed to.
This work was also the subject of a recent blog post, so you can
read the blog post here
for the highlights of the work or read the full detailed study by clicking the article link below. This article is still free to access for the next 2 weeks!*
Health risk assessment of occupational exposure to hazardous volatile organic compounds in swine gestation, farrowing and nursery barns
Neslihan Akdeniz, Larry D. Jacobson and Brian P. Hetchler
DOI: 10.1039/C2EM30722G
To learn more about the latest Environmental Science: Processes & Impacts research, view the full issue here!
*Free access to individuals is provided through an RSC Publishing personal account. Registration is quick, free and simple