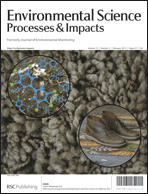 This issue's front cover illustrates research from a team led by Todd Whitehead at University of California, Berkeley, USA, into the determinants of polychlorinated biphenyl levels in household dust. The group measured the levels of this persistent pollutant in 415 homes and use regression models to ascertain the potential determinants. Homes built before 1980 were more likely to contain PCBs at higher levels in dust. Here is evidence that removing your shoes and cleaning your carpets can lower the level of PCBs accumulating in the carpet. All of our cover articles are free to access for 6 weeks* so have a read of this topical article now:
Determinants of polychlorinated biphenyls in dust from homes in California, USA
Todd P. Whitehead, Mary H. Ward, Joanne S. Colt, Marcia G. Nishioka, Patricia A. Buffler, Stephen M. Rappaport and Catherine Metayer
DOI: 10.1039/C2EM30721A
---
Sohel Saikat et al. from the Health Protection Agency, London,
have written an insightful critical review for Issue 2 of what we know about how perfluorooctane sulphonate impacts on human health as it persists in the environment via various exposure pathways.
The impact of PFOS on health in the general population: a review
Sohel Saikat, Irene Kreis, Bethan Davies, Stephen Bridgman and Robie Kamanyire
DOI: 10.1039/C2EM30698K
---
There are also a number of HOT articles in February's issue of Environmental Science: Processes & Impacts:
Prevalence of respiratory adenovirus species B and C in sewage sludge
Kyle Bibby and Jordan Peccia
DOI: 10.1039/C2EM30831B
Read the recent blog article for c2em30831b here!
Role of macropore flow in the transport of Escherichia coli cells in undisturbed cores of a brown leached soil
Jean M. F. Martins, Samer Majdalani, Elsa Vitorge, Aurélien Desaunay, Aline Navel, Véronique Guiné, Jean François Daïan, Erwann Vince, Hervé Denis and Jean Paul Gaudet
DOI: 10.1039/C2EM30586K
Read the recent blog article for c2em30586k here!
The bioavailability of manganese in welders in relation to its solubility in welding fumes
Dag G. Ellingsen, Evgenij Zibarev, Zarina Kusraeva, Balazs Berlinger, Maxim Chashchin, Rita Bast-Pettersen, Valery Chashchin and Yngvar Thomassen
DOI: 10.1039/C2EM30750B
*Free access to individuals is provided through an RSC Publishing personal account. Registration is quick, free and simple