Welcome to the first issue of the new year!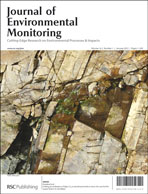 In 2012 we welcome a new Chair to our Editorial Board, Frank Wania, University of Toronto and thank Professor Deborah Swackhamer for all her work as previous Chair.  Read Professor Wania's Editorial for his ambitions for the journal as "the periodical of choice for cutting-edge research on environmental processes and impacts".
We have also seen changes to our Editorial Board this year, take a look at this profile article for our new line-up of stellar environmental scientists.
Also in this issue is our regular Environmental Digest from Mike Sharpe which has undergone a revamp for the new year and many hot articles including ultracentrifugation for environmental virus recovery, the effects of residual antibiotics in groundwater on antibiotic resistance and polar bear teeth for biomonitoring.