The hot articles on our cover this month are from Xiang Li and Jiamin Chen (Fudan University) and Zhendi Wang (Environment Canada).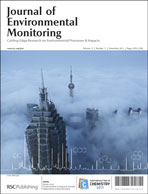 The futuristic image on the outside front cover image highlights the work from Li et al on solid-phase microextraction (SPME) analysis of PAHs in fog.  Polluted fog is a serious problem in Shanghai, where the study took place, and this research should provide a basis for better understanding of PAHs in fog-rain events.
Characterization of polycyclic aromatic hydrocarbons in fog–rain events
Xiang Li, Pengfei Li, Lili Yan, Jianmin Chen, Tiantao Cheng and Shifen Xu
J. Environ. Monit., 2011, 13, 2988-2993
DOI: 10.1039/C1EM10543D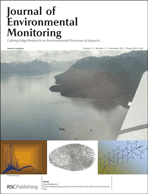 On the inside front cover another serious environmental issue is highlighted – oil spills.  Wang et al present a case study of the 2009 Sarnia (Ontario) spill, using GC and GC-MS to characterize the chemical composition and determine the source of the oil spill by identifying oil 'fingerprints' through characteristic biomarkers and statistical correlation of target diagnostic ratios.
Forensic fingerprinting and source identification of the 2009 Sarnia (Ontario) oil spill
Zhendi Wang, C. Yang, Z. Yang, J. Sun, B. Hollebone, C. Brown and M. Landriault
J. Environ. Monit., 2011, 13, 3004-3017
DOI: 10.1039/C1EM10620A
View the rest of Issue 11 including a Focus article on the current state of the art in passive sampling devices