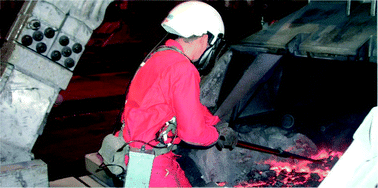 Data published in recent years has raised concern that the current occupational exposure limits (OELs) may not be low enough to protect workers from the toxic effects of exposure to beryllium.  Beryllium is present in aluminium ores, and therefore workers in the primary production process of aluminium may be at risk from exposure, even at low levels, to Be.
Yngvar Thomassen and coworkers have investigated the exposure of workers across 7 Norwegian aluminium smelters, collecting a total of 480 samples across two sampling campaigns.  Water soluble Be, Al, F– and Na inhalable, thoracic and respirable aerosol fractions were determined, providing information on the amount and composition of the particulate matter which will be useful in better understanding the potential risks of occupational Be exposure.
Download the full article to read the authors discussion of  their results and potential implications – this hot article is currently free to access for 4 weeks:
Occupational exposure to beryllium in primary aluminium production
Nils Petter Skaugset, Dag G. Ellingsen, Kari Dahl, Ivar Martinsen, Lars Jordbekken, Per Arne Drabløs and Yngvar Thomassen
J. Environ. Monit., 2012, Advance Article
DOI: 10.1039/C1EM10539F
This article is part of our forthcoming collection from the AIRMON 2011 conference, the 7th International Symposium on Modern Principles for Air Monitoring and Biomonitoring held on June 19–23 this year in Loen, Norway.  Check back soon for more hot articles in the collection.