This month's issue sees contributions from 3 of our 2010 Emerging Investigators, Hans Peter Arp, Susan Bengtson Nash and Nicholas Howden, read their profiles online here.
The issue also includes several HOT articles from M. Feroz Khan on monitoring 210Po and 210Pb levels in crabs near a new nuclear power station, Timothy Van Renterghem on using consumer microphones to measure noise pollution, and an article from Kenneth Fent on the exposure of firefighters to VOCs from vehicle fires.  This paper is also on our cover and is highlighted in Chemistry World – you can read the article here.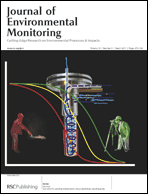 The other HOT article highlighted on the cover is from Martin Harper and colleagues from NIOSH, USA, looking at the challenge of accurately measuring personal exposure to airborne contaminants.
Biomonitoring 210Po and 210Pb in marine brachyuran crabs collected along the coast of Kudankulam, Gulf of Mannar (GOM), India
M. Feroz Khan, S. Umarajeswari and S. Godwin Wesley
J. Environ. Monit., 2011, 13, 553-562
DOI: 10.1039/C0EM00723D
On the ability of consumer electronics microphones for environmental noise monitoring
Timothy Van Renterghem, Pieter Thomas, Frederico Dominguez, Samuel Dauwe, Abdellah Touhafi, Bart Dhoedt and Dick Botteldooren
J. Environ. Monit., 2011,13, 544-552
DOI: 10.1039/C0EM00532K
Assessing the risk to firefighters from chemical vapors and gases during vehicle fire suppression
Kenneth W. Fent and Douglas E. Evans
J. Environ. Monit., 2011, 13, 536-543
DOI: 10.1039/C0EM00591F
Size-selective sampling of particulates using a physiologic sampling pump
Larry A. Lee, Eun Gyung Lee, Taekhee Lee, Seung Won Kim, James E. Slaven and Martin Harper
J. Environ. Monit., 2011, 13, 527-535
DOI: 10.1039/C0EM00445F