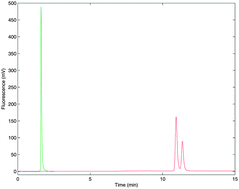 Scientists from Australia have developed a method for the fast and sensitive detection of aluminium in aqueous samples via reversed-phased high-performance liquid-chromatography (RP-HPLC) using an ultra-short monolithic column.
The team led by Pavel Nesterenko demonstrated that a 'run time' of 2.5 min could be achieved for this method without compromising sensitivity, precision or accuracy, representing an improvement in run time by more than 50% compared to the fasted method published previously.
Read the paper for free until 4th November 2011!
Fast and sensitive determination of aluminium with RP-HPLC using an ultra-short monolithic column, Tomas A. Remenyi, Pavel N. Nesterenko, Andrew R. Bowie, Edward C. V. Butler and Paul R. Haddad, Anal. Methods, 2011, DOI: 10.1039/C1AY05192J
You may also find these chromatography papers interesting……
Determination of estrogens in environmental water samples with solid-phase extraction packed with bamboo charcoal prior to high-performance liquid chromatography-ultraviolet detection, Jia-Bin Zhou, Cong Hu and Ru-Song Zhao, Anal. Methods, 2011, DOI: 10.1039/C1AY05453H
Chromatographic determination of active compounds in topical formulations, Ludmila Matysová, Petra Koblová, Lubomír Galla, Hana Sklenářová, Lucie Havlíková and Petr Solich, Anal. Methods, 2011, DOI: 10.1039/C1AY05336A
Three-phase hollow fiber microextraction based on carrier-mediated transport combined with HPLC-UV for the analysis of dexamethasone sodium phosphate in biological samples, Homeira Ebrahimzadeh, Yadollah Yamini, Katayoun Mahdavi Ara and Fahimeh Kamarei, Anal. Methods, 2011, 3, 2095-2101, DOI: 10.1039/C1AY05207A