The #RSCPoster Twitter Conference is an online event held entirely over Twitter to bring members of the scientific research community together to share their research, network and engage in scientific debate.
Join the 2020 #RSCPoster event:
Register to submit a poster – www.rsc.li/rsc-poster-2020
Tweet your poster with a title, #RSCPoster and relevant subject hashtag(s)  – during the 24h conference beginning 12:00 UTC 3 March 2020
Discuss and engage – throughout the 24h conference; make sure to answer the questions from the community, committee and comment on other #RSCPosters
Win prizes* if your #RSCPoster is deemed best by Subject Chairs
*Only non-commercial posters will be eligible to win prizes.
 Tips and Tricks for #RSCPoster:
Meet the 2020 #RSCPoster Committee:
2020 Subject Chairs:

2020 General Committee:
| | |
| --- | --- |
| @zjayres Zoe Ayres (Hach UK) | @Chem_Diva Malika Jeffries-El (Boston University) |
| @banerjee_r Rahul Banerjee (IISER Kolkata) | @ChemMouse Francesca Kerton (Memorial University) |
| @BrimbleM Margaret Brimble (University of Auckland) | @BertKlumperman Bert Klumperman (Stellenbosch) |
| @HollehButler Holly Butler (University of Strathclyde) | @S_J_Lancaster Simon Lancaster (University of East Anglia) |
| @stuartcantrill Stuart Cantrill (Nature Chemistry) | @MooresResearch Audrey Moores (McGill University) |
| @SuperScienceGrl Nessa Carson (Pfizer) | @drclairemurray Claire Murray (Diamond Light Source) |
| @helen_casey Helen Casey (University of Huddersfield) | @oharalab Charlie O'Hara (University of Strathclyde) |
| @FurukawaG_Kyoto Shuhei Furukawa (Kyoto University) | @Wpiers1 Warren Piers (University of Calgary) |
| @fi_hat Fiona Hatton (University of Loughborough) | @vss31 Victor Sans (Universitat Jaume I) |
| @jenheemstra Jen Heemstra (Emory University) | @dino_spagnoli Dino Spagnoli (University of Western Australia) |
| @AskwarHilonga Askwar Hilonga (AIST) | @reneewebs Renee Webster (Monash University) |
| @haj19932469 Hajime Ito (Hokkaido University) | @RealTimeChem Jason Woolford (Royal Society of Chemistry) |
Organisers:
Kathryn Gempf
Catherine Hodges
Ed Randviir
Tim Noël
Athina Anastasaki
 @KGempf______
 @HodgesCat

____

 @EdwardRandviir
 @NoelGroupTUE
 @AthinaAnastasa1
Email us: RSCPoster@rsc.org
#RSCPoster a conference with clear advantages…
Frequently Asked Questions:
Do I need to check the copyright and permissions needed for figures or any other parts of my #RSCPoster which have already been published?
Yes. Copyright owners have the exclusive right to copy their work and to issue copies of their work to the public, and it is an infringement for anyone else to do so without the copyright owner's permission. If you are reproducing material contained in a Royal Society of Chemistry publication (journal articles, book or book chapters) you may do so providing that you fully acknowledge the original Royal Society of Chemistry publication and include a link back to it. If you wish to include material that has been published by another publisher, you will need to check how the publisher/copyright owner of the third party material wishes to receive permission requests. Information on this can be found on our Permission Requests page at http://www.rsc.org/Publishing/copyright/permission-requests.asp under "Use of third party material in our publications".
If I include unpublished work in my #RSCPoster, will I still be able to publish this in a peer-reviewed journal afterwards?
Subject to the usual conditions outlined in the License to Publish, being a part of the Twitter conference will not prevent you using some of the information included in your poster as part of an article in a Royal Society of Chemistry journal. Please note this policy varies by publisher and if you intend to submit your research for publication elsewhere after the event, you should check the individual policy for that journal and publisher.
What size/format should my #RSCPoster be?
You can choose any dimensions for your #RSCPoster, the important thing is that the text and figures are clear for people to read and understand. Using Microsoft PowerPoint, we found a text size of between 12-16 were clear to read when saving an A4 slide as a JPEG and uploading to Twitter. Using an A0 template, the text needed to be between 50 and 60 to be legible. You can use any software you like to create your poster, as long as the image you upload is clear for others to read. We recommend testing your poster on Twitter before the conference to make sure you are happy with your image. Check out this blog post by Zen Faulkes for some top tips for making posters with Twitter in mind: http://betterposters.blogspot.com/2019/02/top-tips-for-twitter-posters.html
With thanks to our 2020 Sponsors:
Lead Sponsor: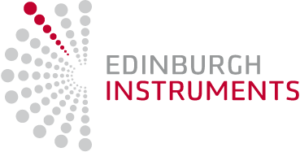 Royal Society of Chemistry Sponsors:
News, Media and Previous #RSCPoster Events:
2020 #RSCPoster:
Winners and summary announcement: coming soon…
2020 Registration Event page: here
RSC News Article – one month to go: here
2020 Blog homepage: here
2019 #RSCPoster: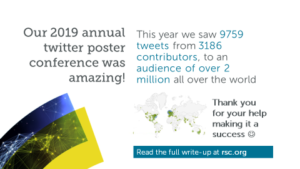 Winners and summary announcement: here
2019 homepage: here
RSC News Event highlights: here
RSC News winners announcement: here
Chemistry World Story: here
2018 #RSCPoster: 
Winners and summary announcement: here
2018 homepage: here
2017 #RSCPoster:
Winners and summary announcement: here
2017 homepage: here
Or search Twitter via the #RSCPoster here.