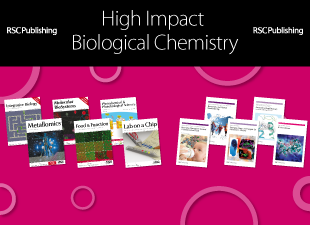 If you're in San Diego for the 2012 Experimental Biology conference, make sure you drop by Booth #416.
We will be showcasing our journals and books and we will be giving away FREE copies of our 'hot off the press' new booklet containing a collection of our best biological chemistry articles!
But why is the 2012 Experimental Biology conference important to a publisher historically renowned for high quality chemistry research?
In response to the needs of the increasingly interdisciplinary community our activities have evolved over recent years. Our new and more established journals and books cover many of the most important areas of biological chemistry research.
RSC Biological Chemistry titles are creating a new paradigm in biology by addressing real problems and real scientific issues of concern in todays world. The journals we will be highlighting are…
 Lab on a Chip, Integrative Biology, Metallomics, Molecular BioSystems, Food & Function and Photochemical & Photobiological Sciences.
Book series include the RSC Drug Discovery Series, RSC Biomolecular Sciences Series and the RSC Issues in Toxicology Series.
So whether you're looking for the latest cutting-edge research, needing to access top quality reference works, or finding the best place to publish your biological chemistry research, choose RSC Publishing.