The eagerly anticipated first articles for new journal Materials Horizons are now available online.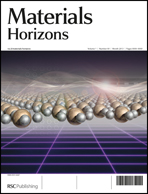 Excellent research is key to new advances that will benefit science and humanity. 
Materials Horizons only publishes work of exceptional significance at the cutting-edge interface of materials science with chemistry, physics, biology and engineering. What could be a better incentive for you to read these inaugural articles?
Chemotaxis of catalytic silica–manganese oxide "matchstick" particles
Adam R. Morgan, Alan B. Dawson, Holly S. Mckenzie, Thomas S. Skelhon, Richard Beanland, Henry P. W. Franks and Stefan A. F. Bon
Production of heavily n- and p-doped CVD graphene with solution-processed redox-active metal–organic species
Sergio A. Paniagua, Jose Baltazar, Hossein Sojoudi, Swagat K. Mohapatra, Siyuan Zhang, Clifford L. Henderson, Samuel Graham, Stephen Barlow and Seth R. Marder 
Highly dispersible polypyrrole nanospheres for advanced nanocomposite ultrafiltration membranes
Yaozu Liao, Thomas P. Farrell, Gregory R. Guillen, Minghua Li, James A. T. Temple, Xin-Gui Li, Eric M. V. Hoek and Richard B. Kaner
Vesicle budding from polymersomes templated by microfluidically prepared double emulsions
Julian Thiele, Venkatachalam Chokkalingam, Shaohua Ma, Daniela A. Wilson and Wilhelm T. S. Huck
Plus, discover the vision for the journal in the Editorial, Materials Horizons: a personal perspective, by Editor Liz Dunn and Editorial Board Chair Seth Marder.
We want to ensure the world benefits from the best possible research.
All Materials Horizons articles will be free to access online until the end of 2015*, so researchers worldwide can discover, read and share them.

Like what you read? Submit your work to Materials Horizons.
And ensure you keep up to date with the latest research: sign up for the Materials Horizons e-alert and newsletter. 
* All articles published in 2014 and 2015 issues are free to access online to all individuals who have signed up for an RSC Publishing Personal Account, and to all existing RSC customers with an IP address registered.