Connecting communities and inspiring new ideas
We are excited to announce our new open access journal, Environmental Science: Atmospheres, a cross-disciplinary journal spanning the entirety of Earth's atmosphere. Using our fresh, transparent approach, we will help to open up boundaries, inspire innovation and forge collaborations between communities working on outdoor and indoor environment science.
Sign up to receive news and issue alerts.
Illuminate your research – publish with us
We are inviting contributions from fields spanning the entirety of Earth's atmosphere, including atmosphere–biosphere, atmosphere–ocean, and atmosphere–surface interactions as well as indoor air and human health effects research.
Join us as one of the authors included in our first ever issue in early 2021. Submit an article now.
Gold open access from issue 1
Environmental Science: Atmospheres will be gold open access from launch, offering authors a trusted, reliable option for publishing their work open access. As a gold open access journal, there are no barriers to accessing content and your research article will reach a global readership.
The journal also offers Transparent Peer Review, where authors have the option to publish reviewers' comments, the editor's decision letter, and authors' response alongside the article.
We are waiving all article processing charges until mid-2023 so your work will receive maximum visibility at no cost to you.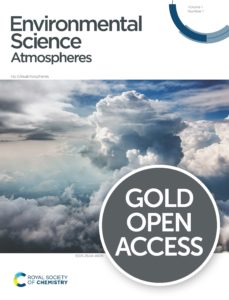 We hope to see your name among our first submissions.
Keep up with all things #ESAtmos – follow us on Twitter: @EnvSciRSC