The #RSCPoster Twitter Conference is an online event held entirely over Twitter to bring members of the scientific research community together to share their research, network and engage in scientific debate.
Taking place for 24 hours starting at 12:00 UTC, 3 March, the 2020 edition of #RSCPoster was incredible.
In it's sixth year, #RSCPoster showcased fantastic posters from all corners of the globe, stimulating thousands of tweets of discussion across our chemical community. The event boasted a full compliment of subject categories spanning the chemical sciences and related fields, supported by 38 passionate Subject Chairs and 24 dedicated General Committee members based across the globe (find out who they were in this blog post).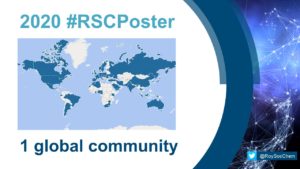 Reaching throughout the twitter chemical sciences community and beyond, #RSCPoster 2020 involved:
24 hours and 12 subject categories
795 registered poster presenters from 59 countries
over 4700 conference attendees 
over 9900 tweets 
over 32.1 million potential impressions 
Highlights from #RSCPoster 2020:
The 2020 edition of #RSCPoster, the virtual chemistry poster competition, came to an end today at midday UK time, after 24 straight hours of tweeting. If you missed it don't worry, as we've pulled out some of the best bits for you.
Find out who they are: CLICK HERE
Congratulations to the prize winners, thank you to our subject chairs for selecting this year's winners from an incredible number of fantastic posters, thank you to our sponsors for supporting the prizes and finally congratulations and thank you to everyone who contributed, tweeted and participated in 2020 #RSCPoster.
1st Place prize = £120
2nd Place prize = £60
#RSCEdu prizes = £120
Audience participation prize = personalised #RSCPoster cartoon mug
| | |
| --- | --- |
| Audience participation prize (#RSCPoster that receives the most retweets) | |
Announcing the 2021 #RSCPoster Twitter Conference:
Save the date – the 2021 #RSCPoster Twitter Conference will be held on 2 March 2021 beginning 12:00 UTC for 24h. More information to be announced soon!
Links, News, Media and Previous #RSCPoster Events:
2020 #RSCPoster:
RSC News winners announcement: here
RSC News Event highlights: here
2020 Registration Event page: here
RSC News Article – one month to go: here
2020 Blog homepage: here
2019 #RSCPoster: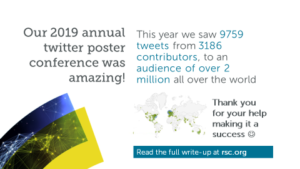 Winners and summary announcement: here
2019 homepage: here
RSC News Event highlights: here
RSC News winners announcement: here
Chemistry World Story: here
2018 #RSCPoster: 
Winners and summary announcement: here
2018 homepage: here
2017 #RSCPoster:
Winners and summary announcement: here
2017 homepage: here
Or search Twitter via the #RSCPoster here 
With thanks to our 2020 Sponsors:
Lead Sponsor: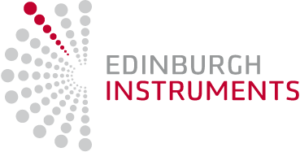 Royal Society of Chemistry Sponsors:
Organisers:
Kathryn Gempf
Catherine Hodges
Ed Randviir
Tim Noël
Athina Anastasaki
 @KGempf______
 @HodgesCat

____

 @EdwardRandviir
 @NoelGroupTUE
 @AthinaAnastasa1
Email us: RSCPoster@rsc.org