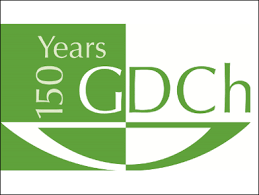 The Royal Society of Chemistry (RSC) celebrated its 175th anniversary in 2016, and this year marks the 150th anniversary of the German Chemical Society (GDCh). Thus, the RSC and the GDCh are not only among the oldest but also among the largest and most active chemical societies worldwide. When outlining plans to launch the German Chemical Society in 1867, August Wilhelm von Hofmann drew on his positive experiences at the Chemical Society in London in how such a society can stimulate its members and provide a driving force for research. A RSC–GDCh Joint Symposium is taking place on October 25, 2017 in London. Find out more.
There have been many close collaborations between researchers from both countries. Numerous researchers have spent time in the top laboratories in the other country forging bonds and building networks. Chemists from the UK have won some of the most prestigious awards bestowed by the GDCh, and similarly German researchers have won some of the top RSC prizes.
To commemorate the respective anniversaries the RSC and the GDCh and its publisher Wiley-VCH are making 150 articles freely available till the end of 2017. The selection provides some historical insights, a number of papers from prize-winning researchers, and a wide range of collaborative works across the years.