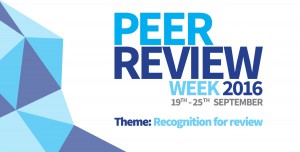 When you give your time as a reviewer for a Royal Society of Chemistry journal, you are part of the world's leading chemistry community, supporting us in advancing excellence in the chemical sciences.  As a little added bonus to celebrate Peer Review Week, for the next four weeks you will also be in with a chance of winning a fantastic prize!
The first three lucky winners will receive an Apple iPad and 10 runners-up will collect a free 6 month digital subscription to Chemistry World the Royal Society of Chemistry's flagship magazine featuring the latest chemistry news, research updates, features, opinions, podcasts and more. This offer also includes a 25% discount on a 12 month digital subscription after the end of the free access period.
Entry couldn't be simpler – a reviewer who submits a review for any of our journals between 19 September 2016 and 16 October 2016 will be automatically eligible for a chance to win.  Winners will be selected at random and announced in the first week of November 2016.*
If you would like to become a reviewer for any of our journals, just contact the journal by email with details of your research interests and an up-to-date CV or résumé.  You can find more details in our author and reviewer resource centre.
P.S. Did you know that all reviewers for our journals are entitled to a 25% discount on books published by the Royal Society of Chemistry?  Contact booksales@rsc.org for more information.
*Reasonable efforts will be made to contact the winner(s). If the winner(s) cannot be contacted, we reserve the right to offer the prize to the next eligible entrant drawn at random. We reserve the right to reject entries from entrants not entering into the spirit of the competition.