The new place to publish your energy and fuels research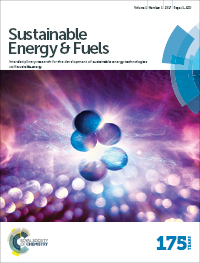 Here at the Royal Society of Chemistry, we are justifiably proud of our reputation for high quality publications in energy science. So we are delighted to announce the expansion of our energy portfolio with the launch of new journal Sustainable Energy & Fuels.
Complementing our leading titles Energy & Environmental Science and Journal of Materials Chemistry A, Sustainable Energy & Fuels will publish interdisciplinary research that contributes to the development of sustainable energy technologies, with a particular emphasis on new and next-generation technologies.
An essential resource for energy researchers, Sustainable Energy & Fuels cuts across major disciplines – materials science, physics, chemistry, engineering and biology – covering evolving and emerging areas such as:
•    bioenergy including biofuels, biomass conversion and fuels from living organisms
•    carbon capture, storage and utilisation
•    energy conversion including fuel cells, piezoelectrics and thermoelectrics
•    energy storage including batteries and supercapacitors
•    hydrogen production, storage and distribution
•    new technologies for energy efficiency including magnetocalorics,  lighting and heating
•    nuclear power
•    solar energy including solar photovoltaics and solar fuels
•    sustainable fossil and alternative fuels
Guided by Editor-in-Chief Professor James Durrant (Imperial College London and Swansea University, UK), Sustainable Energy & Fuels will publish monthly issues containing a mix of Communications, Full papers and Reviews. Look out for the first issue online in spring 2017, with advance articles published from December 2016.
We'll be sharing more news soon – including when Sustainable Energy & Fuels opens for submissions. With all content published in 2017 and 2018 free to access upon registration, publishing your research in these high profile first issues offers you maximum exposure for your work.
Make sure you stay up to date – sign up to email alerts today.