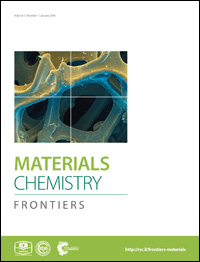 The international, high-quality journal for topical and multi-disciplinary research on all aspects of materials chemistry.
We are delighted to announce Materials Chemistry Frontiers, the third title in the enterprising Frontiers family – a truly international, world-class journal series directed by leading Chinese academic institutions and published in partnership with the Royal Society of Chemistry.
High-impact science
Materials Chemistry Frontiers is the ideal home for studies of a significant nature which further the development of organic, inorganic, composite and nano-materials.
This online-only, highly interdisciplinary journal will focus on the synthesis and chemistry of exciting new materials, and the development of improved fabrication techniques. Characterisation and fundamental studies that are of broad appeal are also welcomed.
In a simple and straightforward publishing format, Materials Chemistry Frontiers will publish only three article types:
• Research Articles
• Critical Reviews
• Chemistry Frontiers

Find out more.
Led by experts
Materials Chemistry Frontiers is jointly owned by the Chinese Chemical Society and Royal Society of Chemistry, supported by the Institute of Chemistry, Chinese Academy of Sciences. The journal will be led by Editor in Chief Benzhong Tang (Hong Kong University of Science and Technology).
This winning collaboration of China-led research expertise and innovative publishing by a world-leading not-for-profit publisher guarantees a journal that will uphold the highest ethical standards and showcase only the very best research from China, Asia and the rest of the world to an international audience.

Maximum visibility
High-impact research needs high visibility. All content published in the first two volumes will be free to access upon registration – offering authors maximum exposure for their work.

World-class publishing
At the Royal Society of Chemistry, we've successfully launched journals across the breadth of the chemical sciences, including an ALPSP Best New Journal winner and a host of high impact titles leading the way in their field. So you can be sure Materials Chemistry Frontiers is in safe hands.
Benefits of being a Materials Chemistry Frontiers author include:
• Rapid publication and first-class author service
• A simple and user-friendly online submission process
• No submission charges or page limits, and free colour
• Open access publishing options
• Free electronic reprints of your own paper
Keep in touch
Be the first to hear the latest news about Materials Chemistry Frontiers – including when the journal is open for submissions – sign up to e-alerts today.