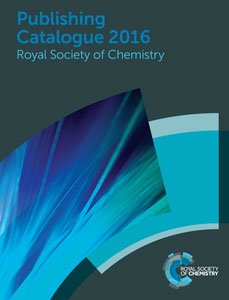 Even more high-impact, peer-reviewed journals.
A growing collection of digital and print books from respected international authors.
Databases, archives and updating services that bring you the best research, both current and historic.
Our publishing programme is expanding even further in 2016. Download your copy of the Publishing Catalogue 2016 and turn to:
Page 6
Flagship journal Chemical Science is now gold open access, with all publication charges waived for 2016.
Page 20
Nanoscale Horizons joins sister journal Nanoscale to provide a rounded view of innovation in nano research.
Page 23
We also welcome Reaction Chemistry & Engineering to our journals portfolio – bridging the gap between chemistry and chemical engineering.
Page 24
There's 500 years of scientific history waiting for you in the Historical Collection, our new digital archive of scientific records dating back to the 16th century.
We know chemistry
We've spent 170 years promoting, celebrating and supporting the chemical science community. Our organisation is full of experts who work consistently to make the best chemical science knowledge accessible to everyone, encouraging new ideas and inspiring scientists of the future.
Every product we offer has been carefully chosen and developed to be of real value to people working in the chemistry community. And because all of our profits are re-invested, anything purchased from us will help to support the talent, information and ideas that lead to great advances in science.
We hope you enjoy looking through the Catalogue. For more information about any of the products inside, just email the team and someone will be in touch.