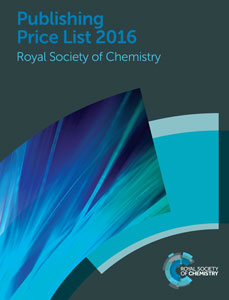 The best research for you. Ongoing support for the chemical sciences
Our Publishing Price List for 2016 is now available.
As ever, we've been listening to what you need and have made changes to reflect this, as well as some other exciting developments.
What we haven't changed is our approach. Every product has been carefully designed to provide easily accessible, high quality information at prices that will work with the tightest of budgets. And because all of our profits are re-invested, anything purchased from us will help to support the talent, information and ideas that lead to great advances in science.
Here's what you need to know this year:
Open access
We're doing everything we can to help researchers fulfil their Open Access requirements. Chemical Science is now a Gold Open Access journal, with no Open Access Author publishing fees for two years. This means it's free to read, and free to publish in.
Flexible options
We've developed our eBook Pick & Choose model to improve the flexibility of our books offering. For a minimum spend of £1,000 ($1,500), libraries can take their pick of key chemical science titles from our entire eBook portfolio.
Growing choice
There is a lot to look forward to in 2016, including the launch of new journals. Nanoscale Horizons and Reaction Chemistry & Engineering are the latest additions to the collection, both available free to subscribers until the end of 2017.
We're also expanding our eBook collection, with over 70 new titles on the way this year.
Recognised quality
In 2014, we published over 36,200 articles. That's a 398% increase compared with 2008's figure.
87 countries contribute to our content ensuring a truly global perspective.
And in the recently published 2014 Journal Citation Reports®, 70% of our journals had an increase in Impact Factor*.
Always good value
We will always do our best to create a package that includes products you need at a price to suit your budget. Our cost per article download has fallen 2.68% since 2014 (that's 34% from 2011 to 2015).
If you would like to discuss your current subscriptions, or you have any questions, please contact us.
*Impact Factor data based on 2014 Journal Citation Reports (Thomson Reuters, June 2015)