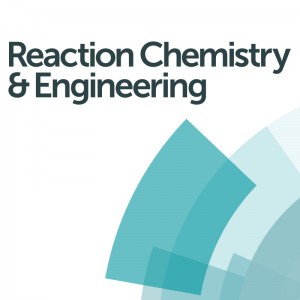 Introducing new journal Reaction Chemistry & Engineering
Launching in 2016, the latest title in our journal portfolio will publish high-impact research at the interface of chemical engineering and chemistry.
Reaction Chemistry & Engineering
Reaction Chemistry & Engineering will report cutting-edge research into all aspects of making molecules for the benefit of fundamental research, applied processes and wider society.
From fundamental, molecular level chemistry to large scale chemical production, Reaction Chemistry & Engineering brings together communities of chemists and chemical engineers working to ensure the crucial role of reaction chemistry in today's world.
The journal's focused mission encompasses a broad range of topic areas, including experimental, theoretical and modelling aspects in:
new reactions and reaction optimisation;
reaction pathways and design;
reaction mechanism and kinetics;
reaction analysis and monitoring;
catalysis and catalytic reaction engineering;
multiphase and reacting flows;
emerging reactor technologies;
sustainable reaction engineering.
Papers that consider multiple scales are particularly encouraged.
Klavs Jensen (Massachusetts Institute of Technology) will take the role of Editorial Board Chair for Reaction Chemistry & Engineering, assisted by Scientific Editor Saif Khan (National University of Singapore); so you can be sure your work is in safe hands.
Why publish with us?
At the Royal Society of Chemistry, we aim high. And our impressive journal portfolio and well-deserved reputation for innovative publishing of exceptional quality are testament to the fact that we succeed.
We've launched journals across the breadth of the chemical sciences, and we know that high-impact research needs high visibility. That's why all content published in Reaction Chemistry & Engineering in 2016 and 2017 will be free to access upon registration – offering authors maximum exposure for their work.
Submit your work now
Reaction Chemistry & Engineering is now accepting submissions for its first issue in 2016. Submit your work now for your chance to be included.
We'll be sharing more news soon – sign up to our Email Alerts Service and make sure you're among the first to hear the latest.