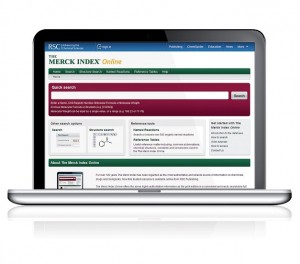 The Royal Society of Chemistry are proud to be the exclusive providers of The Merck Index Online, which is now available for your library to purchase.
You can now watch our introductory video tutorial to find out more about this powerful and user-friendly platform. We hope you find it valuable!
Why choose The Merck Index Online for your library?

The Merck Index Online is an indispensable resource for researchers in chemistry, biochemistry, pharmacology & pharmaceuticals, toxicology, and medicine, featuring powerful search functionality and a user-friendly interface. It has been developed from the new 15th edition of The Merck Index, and offers:
   ✓ Over 11,500 monographs, fully searchable by text or structure
   ✓ Over 1,300 new structures and over 500 new monographs
   ✓ Unlimited concurrent users**
   ✓ Regular updates by a team of specialist editors
   ✓ A host of additional features including saved searches

You can take a look and try out the platform for yourself, or submit your details online to request further information on pricing and trials.
P.S. The Merck Index 15th edition is also available in print – you can order your copies online
—
* The name THE MERCK INDEX is owned by Merck Sharp & Dohme Corp., a subsidiary of Merck & Co., Inc., Whitehouse Station, N.J., U.S.A., and is licensed to The Royal Society of Chemistry for use in the U.S.A. and Canada.
** For academic institutions, hospitals and pharmacies