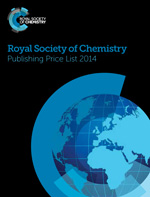 We all want great content, and we all want value for money.
At the Royal Society of Chemistry we are proud to be a not-for-profit organisation, dedicated to advancing excellence in the chemical sciences. Any surplus is reinvested back into this community, including sustaining and developing our publishing programme. Our Publishing Price List 2014 reflects this commitment.
Key highlights and changes for 2014:
Our new partnership with the Chinese Chemical Society (CCS), delivering the first two titles in the new Frontiers journals series: Inorganic Chemistry Frontiers (with the College of Chemistry and Molecular Engineering, Peking University – PKU), and Organic Chemistry Frontiers (with the Shanghai Institute of Organic Chemistry – SIOC)
Two further new journals: Materials Horizons and Environmental Science: Nano – both available for free to all existing subscribers or registered users until the end of 2015
Our acquisition and development of The Merck Index* Online (15th edition), with both perpetual and subscription models available for multiple-users – we are the exclusive provider of what is considered the "bible" of chemistry
An increase in content for Faraday Discussions (9 issues for 2014, previously 8 issues)
Continued great savings on collections. RSC Gold equates to a 50% discount on the individual prices of products, and now includes Toxicology Research. Whilst our Core Chemistry and General Chemistry packages now include RSC Advances. We are discontinuing Package A and Package A+
The new Materials Science Collection. This will include: Journal of Materials Chemistry A, B and C, Energy and Environmental Sciences, Nanoscale, Soft Matter, Polymer Chemistry, Cryst Eng Comm, Biomaterials Science (free in 2014) and Materials Horizons (free in 2014)
Our annual eBook collections, now available for all years from 2008-2014
And, in response to customer needs, we are discontinuing Annual Reports on the Progress of Chemistry to reflect a change in the needs of the chemical sciences community. Existing subscribers will not lose access to previous years' reports
If you would like to discuss your own subscription, creating a bespoke package or upgrading to RSC Gold, please contact us.
*The name THE MERCK INDEX is owned by Merck Sharp & Dohme Corp., a subsidiary of Merck & Co., Inc., Whitehouse Station, N.J., U.S.A., and is licensed to The Royal Society of Chemistry for use in the U.S.A. and Canada.