Heading to San Francisco for the 2013 MRS Spring Meeting & Exhibit?
Drop by RSC Publishing booth #602 to find materials that matter. 
If you've seen us before at the Fall MRS meeting, you'll know we publish a diverse range of books and journals covering the breadth of materials science – from the synthesis of materials through to an assortment of applications.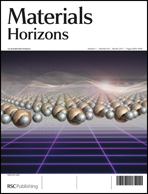 At this meeting, we're celebrating the launch of our new title, Materials Horizons. The journal will publish first reports of exceptional significance at the cutting-edge interface of materials science with chemistry, physics, biology and engineering – and the great news is that all the content will be free to access until the end of 2015. It opens for submissions on 2 April 2013 – find out more at the booth.
Of course, we'll have our other top titles on display, including Biomaterials Science, Journal of Materials Chemistry A, B and C and the flagship general chemistry journal, Chemical Science. 
You can enjoy a conference discount of 30% (or 35% if you're an RSC member) on all RSC books on display at our booth, including Janus Particle Synthesis, Self-assembly and Applications from our Smart Materials book series and our popular science title, Science of Chocolate. 
So to find out more about cutting-edge research, top quality reference works or the best place to publish – make sure you visit booth #602. 
Meet the editors: