It was great to meet old friends and new at the RSC Publishing booth at the 2012 MRS Fall Meeting in Boston last week.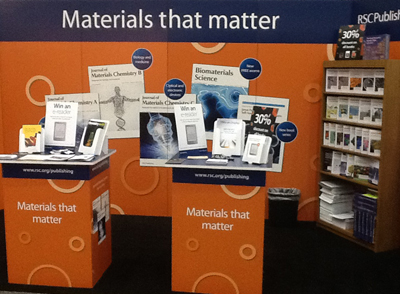 After the positive feedback we received last year, we opted for another environmentally friendly cardboard booth. We had a range of top titles on display, including Energy & Environmental Science, Nanoscale and our new journal Biomaterials Science.
Lots of visitors were keen to learn more about Journal of Materials Chemistry, which, in 2013, continues as three journals: Journal of Materials Chemistry A, B and C. 
And, as always, our books proved popular, in particular our new Smart Materials book series and Chocolate as Medicine.
Thank you to everyone that entered our competition to win an e-reader. Congratulations to our lucky winner: Naoki Fukata from National Institute of Materials Science in Japan! 
We've posted some photos from the meeting on the RSC Facebook page. Share your MRS photos with us on the same page.
Even if you didn't make it to Boston, don't miss out on our special offers this winter:

FREE e-membership and a subscription to Chemistry World
Join RSC e-membership FREE using promo code MRS12 before 31 December 2012 and receive a 12-month digital subscription to Chemistry World.
With news, features, opinion, podcasts and the latest job advertisements, Chemistry World is the best way to keep up to date with the global chemical science community.
Additional benefits include professional networking opportunities in your field through one of over 70 RSC subject-based groups.
FREE RSC Publishing Personal Account
Register today and gain access to ALL free content from RSC Publishing, including the first 2 volumes of our new journals and a sample chapter from every book in the RSC eBook Collection.
Try ChemSpider today
ChemSpider is our free chemical structure database that provides text and structure search access to over 28 million records. Try it out and see what you can discover.
Gold for Gold
We're rewarding RSC Gold customers with voucher codes to publish a select number of papers Open Access in RSC journals. Find out more
You can also discover more about our books and journals through our e-alerts and newsletters.
Any questions or comments? Contact us >