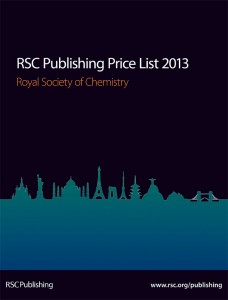 The Royal Society of Chemistry would like to announce its 2013 Price List for journals, databases, magazines, eBooks and various collections.
Growth in content, higher impact factors, increased international influence and global visibility are at the cornerstone of everything we do.
And here's just some of the proof.In the past year the number of articles in RSC journals has risen by 53% to more than 20,000, whilst 41% of our journals have achieved an Impact Factor of *5 and above (that's more than Elsevier, Wiley and the ACS). We can boast authors from more than 90 countries worldwide, and our content has been downloaded by virtually every country on the planet.
Please see below for a summary of all the key changes for 2013, reflected in the new Price List.
New for 2013
All 2013 subscription renewals will be managed in-house by the RSC (this was previously managed by PCS)
There will be two new journals for 2013, Biomaterials Science and Toxicology Research – both available for free to all existing subscribers or registered users
There will be a significant increase in content for the following journals: CrystEngComm (48 issues for 2013, previously 24); Faraday Discussions (8 issues for 2013, previously 6); Polymer Chemistry (24 issues for 2013, previously 12); RSC Advances (48 issues for 2013, previously 24)
Our collections continue to represent great savings, and RSC Gold now includes Catalysis Science & Technology and RSC Advances. We are discontinuing the Package K Collection
We are offering more flexibility on our eBooks, with annual collections now available for all years from 2008-2013. We are discontinuing the Tutorial Chemistry Texts and Paperback Subject Collection
The Journal of Materials Chemistry brand will continue in the form of three journals, but will still be available as a full collection. Each journal will focus on an area of materials chemistry, divided by the nature of the intended applications of the materials studied: energy and sustainability; biology and medicine; and optical and electronic devices.
In response to feedback from the journal's community, the Journal of Environmental Monitoring is changing its name to Environmental Science: Processes & Impacts (ESPI) to better reflect the content and the interests of the journal's readers
All databases from 2013 will be online only (this applies to individual subscriptions and collections) and we are discontinuing the Chromatography Abstracts database
If you would like to discuss your own subscription, creating a bespoke package or upgrading to RSC Gold, please contact us.
*Impact Factor data based on 2011 Journal Citation Reports (Thomson Reuters, June 2012)